Round Table Discussion: Angels early impressions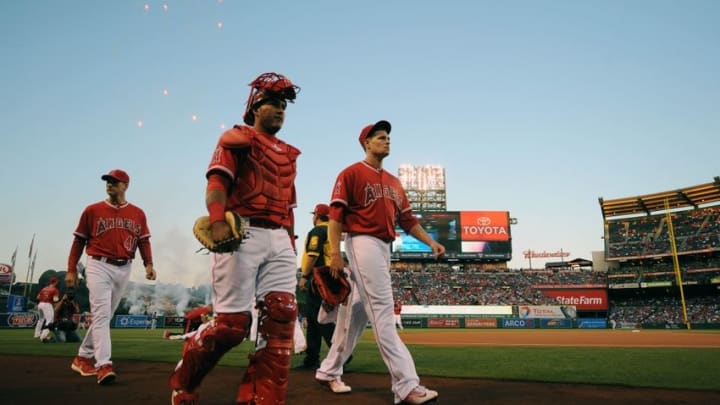 April 4, 2016; Anaheim, CA, USA; Los Angeles Angels pitching coach Charles Nagy (41), starting pitcher Garrett Richards (43) and catcher Carlos Perez (58) before the game against Chicago Cubs at Angel Stadium of Anaheim. Mandatory Credit: Gary A. Vasquez-USA TODAY Sports /
April 4, 2016; Anaheim, CA, USA; Los Angeles Angels center fielder Mike Trout (27) reacts after striking out in the seventh inning against Chicago Cubs at Angel Stadium of Anaheim. Mandatory Credit: Gary A. Vasquez-USA TODAY Sports /
3. So far, Mike Trout and Albert Pujols are a combined 0 for 15 with five strikeouts. Any cause for concern?
Rice: The fact that Mike Trout and Albert Pujols are 0 for 15 is alarming however, two games is not a concern as it is way to early to judge. The only thing concerning to me is the bad at-bats they both had, especially Trout as he struck out three times and looked almost overmatched. However, I feel they will both bounce back.
Lea: Nah, Arrieta pitched a symphony on Opening Day, Lester was a conductor as well. The Cubs looked like they are the real deal. Now, if Trout and Pujols go hitless against the Rangers tomorrow, then i'll be concerned.
Avise: Pujols is always a cause for concern these days. You just don't know what he's going to give you. Trout will be fine.
Quesada: Mike Trout had never faced Jake Arrieta prior to Opening Night and is now 2-for-14 in his career against Jon Lester. That lack of experience led to a bad start to the season for Trout. He was fooled on both nights but what makes him so great is how well he makes adjustments. The Angels visit the Cubs later this summer and if the stars align, Trout could get another chance at these guys, and I guarantee he won't play nearly as poor. The former AL MVP won't finish the season with a .000 BA and 405 strikeouts. He will be just fine and Pujols will be fine, too. It's important to remember that both Arrieta and Lester were straight-up dealing, and when a pitcher is hitting his spots it leaves the advantage in his hands.
Ludwig: I don't think so, although I'm more worried about Pujols than Trout because of his age and recent injury history. Jake Arrieta and Jon Lester are two of the best pitchers in baseball, so the results aren't too surprising. They'll be fine.
Next: Weaver's Stuff