Top 50 Moments in Angel Stadium History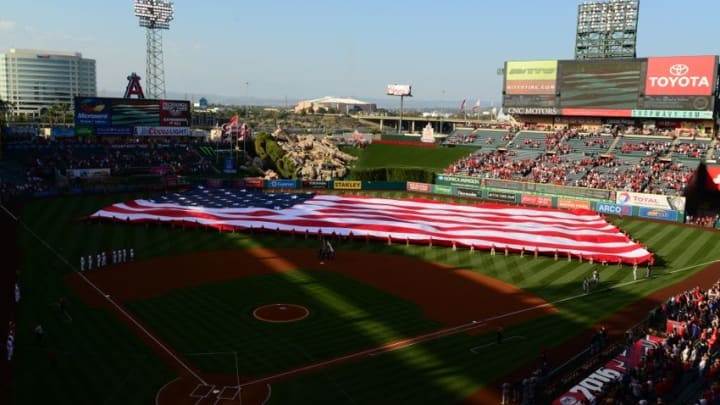 Current view of Angel Stadium of Anaheim. Mandatory Credit: Kirby Lee-USA TODAY Sports /
Fireworks are very much a part of baseball especially on Independence Day: Kirby Lee-USA TODAY. /
#48 – July 4th, 1983 Biggest Regular Season Crowd in Anaheim Stadium History.
On July 4th, 1983 the California Angels hosted the Kansas City Royals on July 4th.  At that time there was no Friday/Saturday Night Fireworks shows or fireworks after home runs.  The only time you saw fireworks at the BIG "A" was on Independence Day.  I myself had never been to a July 4th game at Anaheim Stadium so I was pretty excited.
The Angels were fresh off their 1982 Division Championship and were enjoying their second best season in attendance in club history up to that point and July 4th was no different.  63,132 fans including myself and my grandpa Bill Edwards packed into the Anaheim Stadium to watch the Angels play the Kansas City Royals.
Unfortunately the game was a snoozer for the Angels as the Royals knocked out starter Tommy John in the second inning scoring three runs on five hits off of the lefty and eventually built a 5-0 lead.  The Angels finally broke the shutout bid of Royals starter Paul Splittorff as Brian Downing single to center to score shortstop Rick Burleson who had singled earlier in the innings,  Rob Wilfong flew out to center to end the game which was a 5-1 Royals victory dropping the Angels two games out of first place.
After the game my grandpa and I were able to go onto the field and sit and watch the fireworks as our game seats had an obstructed view of the fireworks.  Despite the result, being a part of a big crowd like that and seeing fireworks with my grandfather is something I will not forget.