The Los Angeles Angels Have a New Torii Hunter in Torii Hunter Jr.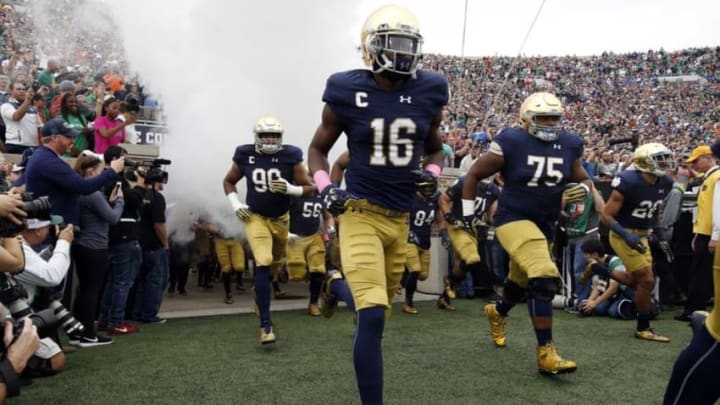 Oct 29, 2016; South Bend, IN, USA; Notre Dame Fighting Irish wide receiver Torii Hunter Jr. (16) runs onto the field before the game against the Miami Hurricanes at Notre Dame Stadium. Mandatory Credit: Brian Spurlock-USA TODAY Sports /
The Los Angeles Angels selected Torii Hunter Jr. in the 23rd round of the 2016 draft. A football player at Notre Dame, Hunter Jr. will pursue a career in baseball.
The Los Angeles Angels selected Torii Hunter Jr. in this year's draft. He has been enrolled at Notre Dame for four years.
He was a multi-sport athlete in high school, playing both baseball and football. His father, Hunter Sr., had a great career for the Twins and Angels. This seemingly inspired his son to try and mirror his father's success.
Hunter Jr. was a standout receiver for the Fighting Irish this past season. Also noteworthy, he was also voted as a team captain by his teammates. His collegiate baseball career was not as successful.
He rode the bench during his two years on the team as a reserve outfielder. Hunter Jr. spent most of his time in a pinch-runner role for the Fighting Irish. As a result, he played well when he saw the field, and will now have a chance to prove himself when he comes to Spring Training.
More from Halo Hangout
Given his success on the gridiron and lack thereof on the diamond, Hunter Jr.'s decision came as a surprise. Making his announcement via Twitter Thursday, Hunter Jr. told the world his time at Notre Dame was done and he is focused on getting ready for Spring Training.
https://twitter.com/THunterJr/status/809498075496677381
While the odds of Hunter Jr. making the roster this season, or ever, are slim. This does not stop him from pursuing his dream. He'll probably have a stint at Angels farm system that some have said to be among the weakest ever, any new prospect is welcomed with open arms.
Next: Former Angel Rod Carew Underwent Surgery
Expect Hunter Jr. to spend the year in Rookie ball, and possibly making the move to a higher division in the years to come. He will undoubtedly be an interesting story to follow come Spring Training.