Which Angels received passing or failing grades in 2020?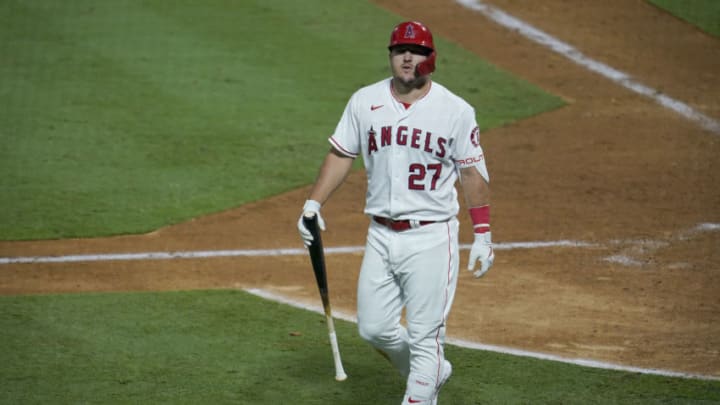 Mike Trout, Los Angeles Angels (Photo by John McCoy/Getty Images) /
Los Angeles Angels, Mike Mayers Mandatory Credit: Angels Baseball/Pool Photo via USA TODAY Network /
Angels: 2020 Season Grades – Relievers
Hansel Robles: F
Robles came into the 2020 season as the number one option for the closer role in the Angels bullpen, however, this season was a completely different Hansel Robles than what fans were used to seeing. His ERA skyrocketed to a 10.26 with only 16.2 innings of work and was eventually removed from the closer role by Angels manager Joe Maddon. It was reported that a reduction in velocity was one of the reasons for his struggles due to the lack of there being no fans in the ballpark. He wasn't able to be himself coming into the 9th inning with a bunch of screaming fans watching his undertaker entrance and helping him get pumped to close out the game. With Robles being arbitration-eligible in the offseason, the Angels will have to determine his worth and see if he can get back to form next season.
Noe Ramirez: B
Ramirez came into a few stressful situations out of the Angels bullpen in the 2020 season, he accomplished his job to the best of his abilities. He finished with an ERA of exactly 3.00 in 21 innings pitched and only gave up 15 hits. He could be seen as a bright spot for the Angels next season with hopefully a full schedule and more opportunities for him to prove himself. He was definitely a small bright spot in the Angels 2020 season based on his stats, even if fans saw him coming into stressful situations with runners on base.
Felix Pena: B+
Pena was another bright spot for the Angels in the 2020 season, as he started becoming the go-to guy for Joe Maddon later on in the season. He finished with a 4.05 ERA  in 26.2 innings pitched, although that doesn't do him justice as he looked really strong in the month of August with a 2.63 ERA  in that month with 15 strikeouts and held opposing batters to a .216 batting average. If Pena could repeat that type of success as he did in August, then he'll be another key piece in the Angels bullpen and play a huge role for Joe Maddon.
Mike Mayers: A
The man that pronounces his name like the iconic Halloween character, pitches like he kills the opponents bats and that happened in 2020. He finished with an ERA of 2.10 and was a nice pickup for the Angels as Maddon went to him consistently this season as he was used in nearly half the season. He won't be a free agent until 2024, so the Angels could definitely use him as another key piece in the surprisingly strong bullpen they had this season. Fans could see him being used as a strong setup man to get the team to either the 8th inning or even the 9th to help get to the closer.
Ty Buttrey: C
Buttrey was named the closer after the struggles of Hansel Robles, however, Buttrey also struggled this season and his lack of success should be questioned next season if he remains the closer. He finished with a high 5.81 ERA in 26.1 innings, giving up 28 hits and had 18 strikeouts. He did have a strong month in August which is the reason why his grade didn't drop any lower than it did. In August, he had an ERA of 1.84 in 14.2 innings pitched with 8 strikeouts, but then something changed in the months of September/October in which his ERA was an 11.88, giving up 12 hits with 9 strikeouts.
Review
The Angels were a team that failed to catch fire on all cylinders in this short 60 game season and with a slow start to the season, it made them sellers at the trade deadline. The team had six As, five Bs, seven Cs, four Ds, and two Fs, with one of those As being a free agent.
It's understandable to think they should've had more success based on the grades of their players, but nobody got hot at the same time and clearly hurt the team. The least appealing grades came from their starting rotation which will need improvement if the Angels want to succeed going forward.
Should the Angels get the necessary pitching help they desperately need, then look for the Angels to be contenders in a full 2021 season. Alas, that will always be the question and we'll have to see what a new general manager can do with the rotation.