What are the best Los Angeles Angels 2016 Promotions?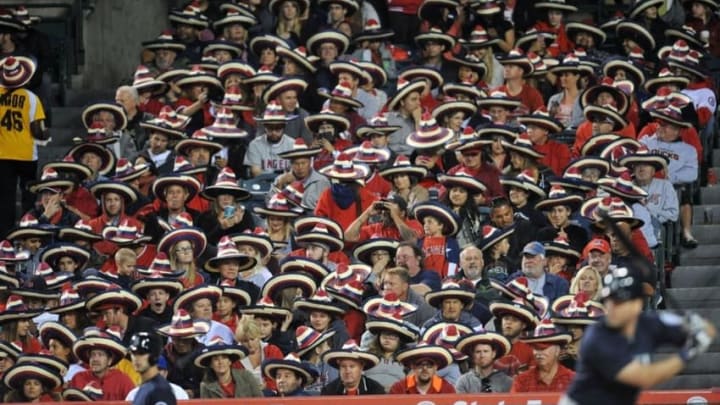 May 5, 2015; Anaheim, CA, USA; Spectators wear sombreros during the fourth inning as the Los Angeles Angels play against the Seattle Mariners at Angel Stadium of Anaheim. Spectators wore them as part of a world record attempt of most people wearing sombreros in a five minute period. Mandatory Credit: Gary A. Vasquez-USA TODAY Sports /
Every year when the Los Angeles Angels schedule comes out I look at it to see what teams are playing in Anaheim and when so I can make plans to go to some games.  I always try to see games against the Dodgers, Red Sox, Yankees, and any interesting interleague contests (this year for the Chicago Cubs and the St. Louis Cardinals are must see series), plus Opening Day.
However, the other thing that I take a close look at is the special giveaway items.  I am a sucker for any bobblehead night.  Anything to do with the rally monkey, baseball card giveaways, as well as anything else that sounds cool (Angels Oktoberfest beer stein, or the Sombero Hat to name a few).  I also like to go to a few fireworks nights especially in the summer as I think fireworks and the summer go hand-in-hand.
So what are the special dates that have caught my eye on the Los Angeles Angels 2016 Promotions schedule.  Take a look below.
Note: Unless otherwise noted all games listed are 7:05 p.m. start times.
April 4th – Opening Day vs. Chicago Cubs – Angels Wall Calendar
As if opening day is not enough to get you to come out to the stadium, the Angels play the Chicago Cubs who could be the 2016 World Champions.  You also will get a nice wall calendar that in years past has a game by game schedule listed on each date.  If you can't go on opening day, you can still get a wall calendar on April 5th also against the Cubs. I like to get one of these every year and even try to get a few extras to use as giveaways in my classroom.
April 7th – vs. Texas Rangers – Mike Trout and Albert Pujols Home Run Bobblehead commemorating the pairs 40 Home Run seasons.
This is the first bobblehead night and I'm sure it is unique being that it is a double-bobblehead, couple that with the fact that both players will most likely be Hall of Famers (I know Trout has played only four years, but I don't see him slowing down any time soon).  The reason for the bobblehead is to mark the first time in Angels history that two players have hit 40 home runs in the same season.  Get there early as I'm sure supplies will not last.
April 8th vs. Texas Rangers – Angels Plaid Blanket
I have gotten a few Angels' blanket in the past.  While they are usually not too think, they can be nice to use on a cool Spring evening at the ball park or maybe at the beach.  Not sure how it looks but it is a day you might consider going to get one.
April 9th vs. Texas Rangers – First Saturday Night Spectacular Post-Game Fireworks show (6:05 p.m. start on most Saturday games).
A general view of fireworks after the game between the San Diego Padres and Los Angeles Angels at Angel Stadium of Anaheim. Mandatory Credit: Kirby Lee-USA TODAY Sports /
I am not going to list every fireworks show during the season, but since this the first one I will mention it.  Every Saturday evening home game is a 6:05 p.m. start and is followed with a spectacular 8-12 minute fireworks show.  They have started to use the fountain as well as occasionally some on field props for this show.  Always impressive for me and any one who likes a good fireworks show.
May 6th vs. Tampa Bay – Selfie Stick Guinness Book of World Records Attempt.
This night has become very popular as the Angels come up with a new item each year to give away and have the fans all wear or in this case use at the same time in order to set a Guinness Book of World Records feat. In the past such things as the record for the most people wearing a sombero, a fuzzy hat, a snuggie blanket, and a wrestling mask have been attempted and accomplished.  Makes for a cool story to tell your grand kids about. This year the record attempt is for the most people using selfie sticks at one time. Sure to be a fun night.
May 8th vs.  Tampa Bay – Mother's Day tote bag – 12:35 pm. start time
Every year on Mother's Day the Angels give a special gift to mom and this year is no different.  What mother wouldn't love an Angels tote bag (I know mine probably could care less about this give away).  They will not ask if you're a mother, young ladies (pre-teen) usually don't get one.
May 20th vs. Baltimore – Mike Trout Wall Catch Figurine
This is another give away which I purchased tickets for in advance as it sounds like it will be a cool giveaway.  Plus at the very least it is a Mike Trout item.  Not quite sure what it will look like, but I have heard rumors that you are able to use lever in the back of the figurine to lift Mike Trout up over the wall.
May 30th vs. Detroit – Memorial Day Fireworks Spectacular (6:05 p.m. start time)
One of the two non-Saturday fireworks throughout the season.  This day commemorates all the soldiers who lost their lives in service to our country.  Usually lots of patriotic music played throughout the show.
June 15th vs. Cleveland – Canvas beach backpack
Not sure what to expect with this give away.  Most backpacks that are given away each year have been pretty nice, but usually very small.  i'm this one will be no different.
June 24th vs. Oakland – Ugly Sweater Baseball Cap
I am really not sure what to expect with this one.  It's not a sweater, but a cap, Hmm, can't picture this one.  An ugly sweater that is a baseball cap, doesn't that just make it an ugly hat.  Just saying.  We will see about this one.
June 29th vs. Houston – Camp Halo #1 12:35 p.m. start time.
This starts the beginning of a series of mid-week day games in the summer that many summer camps bring their groups to Angel Stadium to enjoy a day of fun in the sun and Angels baseball. If you don't like a lot of yelling and chanting by 5-16 year olds then this day may not be for you.  If definitely adds some life to the park on what would normally be a lazy summer day.
July 15th vs. Chicago White Sox – 1970's Groovy Rally Monkey
As I said in the beginning I do like rally monkey nights as they usually are very cute.  I especially loved the Military rally monkey given away last year.  I gave one to my dad for a birthday gift. (don't worry I got him other gifts as well.)
July 31st vs. Boston Red Sox – Umbrella Hat/Summer Sunday/Kids run the bases.
Usually when the Angels play Boston, the New York Yankees, and the Los Angeles Dodgers there are no giveaways, but I guess this is an exception.  This game is listed as a 12:35 p.m. start but could be moved to 5:05 p.m. for ESPN game of the week purposes so stay tuned to the Angels website as it could change.  The give away is an interesting one and may be worth checking out. Also after the game any kid under the age of 14 can line-up and wait for an hour or so to run arund the bases on the Angel Stadium infield.  This is done every Sunday home game.
August 18th vs. Seattle – Hello Kitty Plush toy
This is not one that I care about, but if you have a young lady in your life they may enjoy this give away.  Hello Kitty is to most girls/young women, like bobbleheads are to me. So if you want one of these plush stuffed kitties.
September 11th vs. Texas – Patriotic Camo Baseball Cap
The last few years the Angels have done a give away that is patriotic based to commemorate 9/11.  This year's installment is a camouflaged hat.  As I said before with the camo rally monkey.  I like these type of give aways and will most likely come out to get one of these hats.  It won't be anything fancy, but I'm sure it will pretty cool.
September 16th vs. Toronto – Mickey Mouse Miniature Statue
Mickey Mouse statue outside Angels Stadium Mandatory Credit: Gary A. Vasquez-USA TODAY Sports /
Who doesn't love Mickey Mouse?  This will be sure to be a popular giveaway as Mickey Mouse items seem to be very popular.  Don't know quite what it will look like, but again it's Mickey.
September 18th vs. Toronto – Salute to kids 12:35 pm.
This is a day where the kids run the show.  You will have a kid sing the national anthem.  Kids working on the ground crew, kid guest announcer, and many more things.  If your child like baseball, especially Angels baseball this may be the day for you to take them.
October 1st vs. Houston – Final Saturday night fireworks spectacular 6:05 p.m. start
Pretty self-explanatory.  I just added it in here just in case you want to see one last fireworks before the season ends. Plus these games could be very important if the playoff race is tight.
October 2nd vs. Houston – Team Photo and Fan Appreciation Day
This is always a fun day and a day full of prize giveaway.  I have gone to at least 12-15 of these games over the years, but I have never won squat.  However, I keep hoping.  Many people do win prizes including a new car (season ticket holders only).  It is a fun way to cap off the regular season and hopefully get ready for the post-season.  Oh by the way everyone in attendance gets a team photo.
I hope this gives you an idea of some special days and give aways you might like to enjoy or receive.  Remember "Every Game Matters" in 2016.