Live from San Bernardino with Mike Trout. Coverage of Trout Rehab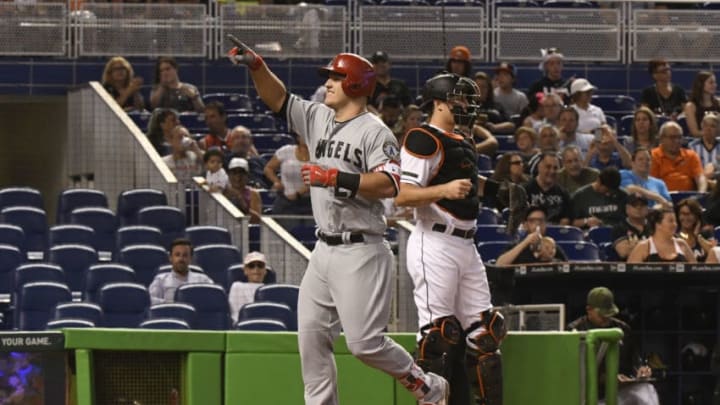 MIAMI, FL - MAY 27: Mike Trout /
Mike Trout has taken another step in his rehab today as he worked out in Inland Empire for the 66'ers, the Angels Single-A affiliate.  Trout is hoping to be back with the Angels after next week's All-Star Break and is on schedule to do so.
Mike Trout worked out in the batting cages before the 66'ers game against the Stockton Ports.  Trout then moved out to the field and hit off live pitching taking five rounds of BP hitting multiple home runs including four to dead center field.  The Angels PR on Twitter released a statement made by general manager Billy Eppler.
(link to Eppler's tweet.)
https://twitter.com/LAAngelsPR/status/882381726709800960
Halo Hangout's David Rice was out in San Bernardino for the game and was there for Trout's pre-game interview.
More from Halo Hangout
Here is some excerpts of what Trout had to say.
"I feel good just another positive day, didn't feel anything today so that's a good sign," Trout said. "I just want go out there and not thinking about it. Mentally every day its better, I just want to be able to go out there and be my normal self and not worry about being sore or getting hurt again and just go out there and play my game. "
According to Angels Vice President of communications Tim Mead, who accompanied Trout and pitcher Matt Shoemaker to San Bernardino, Trout will most likely play at least two to three games for the 66'ers over the next few days. Trout's rehab assignment will most likely begin Wednesday or Thursday.
"If I play tomorrow I'll will probably just DH at first," Trout said. "I have been shagging balls in the outfield and I'm just trying to get back to my normal self.  First I will start with hitting and then just go from there."
Want your voice heard? Join the Halo Hangout team!
Many players over the years have said the toughest thing about rehabbing an injury is the mental side of things with thoughts of reinjuring themselves as well as not being able to do their normal routine.
Next: Trout continues to move closer to coming back to Angels
Trout said the biggest thing he misses is being with the players and competing.
"The toughest thing is sitting on the couch and watching the games. It's weird, it's different because you are always out there with your guys it's your second family," Trout said. "So when you come home and they are in Minnesota or wherever and you can turn on the game and you see them playing and you're not out there with them it's tough. Just the love I have for the game and just to be out there with my guys is what I miss most."
So hopefully if all goes well we will see #27 in Angels Red at the end of next week's All-Star Break when the Angels face Tampa Bay on Friday July 14th. Halo Hangout will continue to cover Mike Trout's rehab until he returns.