Will Zack Cozart retain his 2017 success for LA Angels?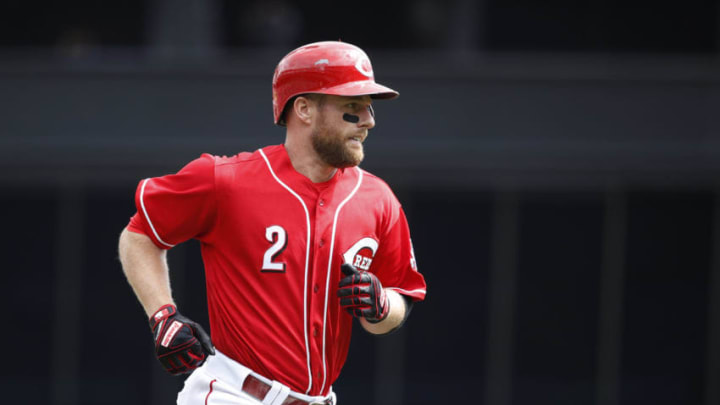 CINCINNATI, OH - SEPTEMBER 06: Zack Cozart /
The LA Angels have had an incredibly fast-paced offseason, bringing Ian Kinsler and Zack Cozart into the organization only days within each other. Last season with the Cincinnati Reds, Cozart had the greatest season of his career by a mile. Many are convinced Cozart will be a key bat in the lineup, but is it possible he will regress to standards below what he's been signed for?
Zach Cozart, the new LA Angels third-baseman, has spent his entire seven-year career with the Cincinnati Reds as the beloved, trustworthy shortstop. Last season, however Cozart went from being the somewhat-reliable hitting shortstop to an absolute monster at the plate.
More from Halo Hangout
In 2017, Cozart finished the season with a slash line of .297/.385/.548 while collecting a fantastic 62 BB's to 78 K's. One of the Angels most needed skill-set is the ability to limit strikeouts, which in itself allows greater opportunity to achieve phenomenal on-base numbers. Clearly this was the case with Cozart as his ability to get on base exploded massively in 2017.
Prior to his career year, Cozart had only reached a BA above .250 (with qualify number of PA's) three times. More worrisome is the fact that his OBP, a skill he was signed for, has only popped over .300 three times in his career; his highest being .310 in 2016.
This all leads to the very impactful question, is Cozart going to face a massive regression in 2018?
At face value it seems so, and once you break into the numbers it get's slightly worrisome. Batting splits are a great way to observe a players true consistency and Cozart's splits are not encouraging in the slightest. I'm not going to imply that Cozart's 2017 season was a product of hitting at Cincinnati, yet when you eyeball his home and away splits you can see something is terribly off.
Usually a home/away split allows for many factors within the equation, usually the biggest being player comfort and advantages of any given ballpark. With Cozart it's far more telling than it should be; in 248 PA's at home Cozart produced a slash of .327/.401/.556. While away he collected a .258/.363/.527 slash line. Aside from batting average it looks pretty consistent, right? He's still getting on base at a fantastic clip while slugging the ball somewhat consistently, yet there still looms an anomaly over his numbers.
Cozart's heightened batting average and OBP can be attributed somewhat to luck as he saw his BA on balls put in play (BAbip) rest at a lofty .348 at home while falling back to earth at a staggering rate with a .261 BAbip on the road. However, given his increased ability to walk last year, there might be a kernel of truth to his 2017 stats.
Before the 2017 season Cozart was striking out nearly triple the amount of times he would walk. His BB total from last year (62) is almost double that of his second best year (37), which may seem like the man improved his skills at the plate. Unfortunately his average rate of 81 K's a season matches his output of 78 from last year, another anomalous stat. It's easy to say that Cozart improved his ability to see the ball, yet a strikeout rate consistent with his career numbers in a season that saw a walk rate inconsistent with career numbers only lends to his anomalous 2017.
Sure, maybe his 2017 season was a matter of Cozart holding all the lucky charms; but I say bring your lucky charms to the Angels and let the dice roll!
Speaking of his power numbers from last year, it isn't the most encouraging thing to see a hitter who hasn't his more than 16 HR's in his career put together a 24 HR season at age 31. It's not impossible to say he's improved as a ballplayer at a later age, it happens, but given the lack of consistency among the minute details it's hard to see him recreating his power numbers from 2017.  Cozart has never had a slugging percentage over .460 and suddenly he puts together a .548 slugging season?
Next: Will Luke Bard Make an Impact in 2018?
Look, I want to believe that Cozart made the jump from standard to All-Star purely on the strength of his improved ball-playing skills, but there's just too much going against him. The massive jump in production from 2016 to 2017 is one thing, but then you see weird things like an improved walk rate while striking out at the same clip you have your whole career it's hard to believe.
Especially if your lucky charm is a creature so majestic.