LA Angels Justin Upton makes third rehab start with 66'ers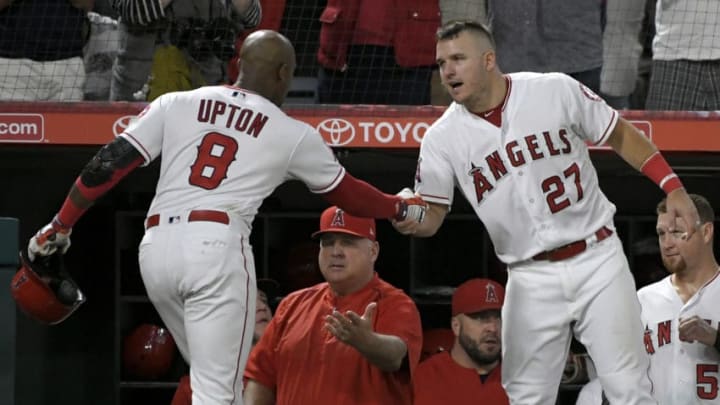 ANAHEIM, CA - SEPTEMBER 15: Justin Upton #8 of the Los Angeles Angels of Anaheim is congratulated by Mike Trout #27 of the Los Angeles Angels of Anaheim hitting a home run against the Seattle Mariners in the fourth inning at Angel Stadium on September 15, 2018 in Anaheim, California. (Photo by John McCoy/Getty Images) /
The LA Angels offense has been slowly heating up ever since they came out of the gate stumbling through the first month of the season.
Since then we've seen some of the LA Angels youth coming through in big ways and now with the return of Shohei Ohtani we're seeing this offense evolving into its truest form. We're on the verge of seeing this lineup fully formed now that Justin Upton is three games deep into his rehab assignment with the Angels Class A Advanced affiliate, the Inland Empire 66ers.
Justin Upton hit 30 HR's for the Angels in 2018 and that power presence is something this team is in serious need of after falling short in so many winnable games. While we may not see Upton log 30+ bombs in 2019 given the amount of time he's missed this season we will see a massive injection of talent and power into the lineup overnight. It's almost like a new free agent addition coming into the team with how much fresh talent and positive shift in team dynamics Upton will bring.
Last night the Inland Empire 66ers faced off against the Rancho Cucamonga Quakes while employing Justin Upton at leadoff and LF. In his three rehab games he's collected three hits with a strikeout and two walks as well as a run scored and 2 RBI while showing off strong legs on the base paths and in the outfield defensively. Upton collected a single in last nights contest and struck out once while also flying out twice. At the plate Upton looked rather locked in, aside from his one strikeout he looked like he was seeing the ball well and made strong contact on his single and two fly outs.
Justin Upton [on his comfort at the plate] " I'm getting there, just trying to see some pitches. I'm seeing a lot of pitches and getting my timing down. I feel like my timing is getting there."
More from Halo Hangout
Seeing Upton run the bases hard after his 4th inning single was a strong sign that he is close to coming back to the Angels given that he was dealing with a toe injury the last two months. His timing at the plate looked solid, his swing was on point, and the state of his health is looking good to go. Since there is no exact timetable for his return we can only assume it's a matter of time.
Upton [on the state of his health] "Its been great. I'm coming out of games feeling good, that's the important thing. I feel good."
Even though there is no exact timetable for his return he's already had a handful of successful AB's in the Minors. It would be fair to expect his return soon. With Upton feeling good after games we may even see him return as soon as the end of the week if not the weekend at the latest. This Angels team is one that needs him too, the offense has been getting much better but there is still lacking presence in the middle of the order. Having Upton back with his power back to protect Shohei Ohtani will create a threatening middle of the order for this Halos squad.
Upton [on the Angels missing his bat] "You always want to be out there with the guys and contributing. Things happen, but the guys have done a good job coming out and swinging the bat well."
The Inland Empire 66ers will be facing the Rancho Cucamonga Quakes at home for the final game of the series tonight at 7:05 PM PT. Justin Upton is expected to play again in left field.