This Weekend Will Define the LA Angels Entire Season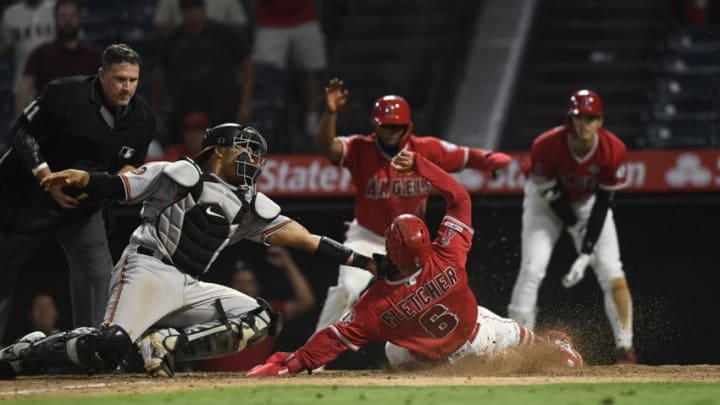 ANAHEIM, CA - JULY 25: Catcher Pedro Severino #28 of the Baltimore Orioles tags out David Fletcher #6 of the Los Angeles Angels of Anaheim at home plate as he attempted to score the go-ahead run on a two run double by Mike Trout #27 of the Los Angeles Angels during the 15th inning at Angel Stadium of Anaheim on July 25, 2019 in Anaheim, California. (Photo by Kevork Djansezian/Getty Images) /
Okay LA Angels fans…I know we're all tired. That 16-inning doozy last night was rough. But these next three days are more important than ever, and could very well make-or-break the Angels' season.
I'm going to lay out two scenarios for the LA Angels this weekend. I know, it's only three days. How could those three games, in July nonetheless, decide our entire season? Well…
Great news, it's Monday, July 29th. The Angels, after being finished off by a center fielder on the mound on Thursday, rebounded and beat the Orioles three times to win the series.
More from Halo Hangout
Mike Trout and Kole Calhoun continued their hot streaks, each hitting three more home runs. The duo is leading the Angels and is ready to dismantle the Tigers as the trade deadline looms.
Across the country, the New York Yankees rebounded after their 16-3 loss against the Boston Red Sox in the series opener. They bounced back to win three straight. Boston is now tied with the Angels in the AL Wild Card race. And oh would you look at that? The Rangers handled the Oakland A's, and the Angels sit just one game back from them as well.
Even better, with the Angels so close to the postseason, Billy Eppler has made comments that the Angels will be buyers and reports have began to leak there's discussions of a possible deal for Noah Syndergaard. Jo Adell's name has not been mentioned…
That's the pipe dream Angels fans. It's a possibility, sure, but that is the best case scenario. The Angels' can only control their next three games, but keep a close eye on the two series in Boston and Oakland this weekend as well.
Now, onto the much more grim outlook for the weekend.
Boston, after their 16-3 win on Friday, stayed hot against the shaky Yankees rotation and swept the series. Texas began selling off assets, and the A's took advantage by coming back and winning the series.
The Angels, after pitching everyone on Thursday, had to rely on iffy arms the rest of the series. Even against the lowly Orioles, they had a tough time restraining runs. Mike Trout and Kole Calhoun couldn't maintain their hot steaks, and combined for just three hits on the weekend. The Angels were swept by the Orioles, and sit too far back to have a realistic chance at the Wild Card.
Billy Eppler, uninspired by the team's play, holds off on any big time trades. He makes some marginal moves, but nothing more than a back-end starter is added to eat innings down the line.
Obviously these are two drastic scenarios and are at opposite ends of the spectrum, but they're both possibilities. While these might be skepticism, the idea that the next three days will define how the Angels proceed for the next two months, is fact.