LA Angels Series Preview: 2020 Starts in Cincinnati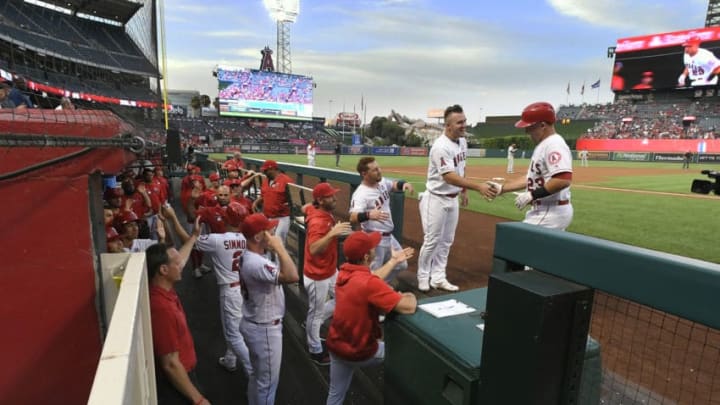 ANAHEIM, CA - JULY 30: Matt Thaiss #23 of the Los Angeles Angels of Anaheim is congratulated by Mike Trout #27 as he walks into the dugout after hitting a two run home run in the second inning agaisnt the Detroit Tigers at Angel Stadium of Anaheim on July 30, 2019 in Anaheim, California. (Photo by John McCoy/Getty Images) /
The last couple of weeks may have been tough to stomach for the LA Angels and fans alike; after watching the team propel themselves into a position to compete for the AL wild card it seemed as if our season was just starting.
Just a week later the LA Angels season has officially crashed and burned after losing multiple must-win series. Yesterday saw three key Angel players; Andrelton Simmons, Griffin Canning, and Felix Pena all go down with injuries.
It's time to put 2019 behind us and look towards the future that is 2020. That is a difficult task after such a spending a whole season watching a promising team fail to fully get it together time and time again. The Angels have been hamstrung by a rash of injury and unproductive starting pitching that forced the team to climb out of early holes time and time again. As difficult of a season as this has been credit must be given to manager Brad Ausmus for managing to keep a clear sub-.500 team hanging around and above .500 all season.
Ausmus managed to guide this team that has no starting pitching, a gassed bullpen, and an inconsistent offense, to compete for the wild-card all the way to the end of July. It wasn't the best stretch of Angels baseball, but the fact that the Angels were able to hang on despite the poorly-constructed starting staff is a testament to the managerial prowess of Brad Ausmus. The pieces for a successful 2020 are already in place all over the Angels squad, there just needs to be a few prime starting pitchers to round out the team and put them in a position where they can compete for a whole 162-game stretch.
With the 2019 season on it's death bed the best we can do it stop looking to what didn't work for 2019, but focus our hopes and attention on what can and will work for 2020. The Angels have been bringing up a lot of young athletes who look more than ready to contribute at a big league level in 2020, but with the 2019 season looking unsalvageable we're going to start seeing potential pieces for 2020 hit the big leagues and show their stuff.
It may still be 2019, but 2020 starts today with the call up of the Angels top pitching prospect (who hasn't made a MLB debut) Patrick Sandoval. The left-hander was acquired in last years trade with the Houston Astros for then Angels catcher Martin Maldonado. After a year in the Angels system we're finally going to get a big league look at a prime piece of talent that can very well anchor the Angels middle/bottom half of the rotation, and at best he can be a lights out #3 starter with borderline #2 quality.
Time to take a look in the Angels crystal ball in see what 2020 has in store for us.
Angels @ Reds
(8/5) 4:10 PM PT @ FS-W: Patrick Sandoval (0-0, -.– ERA) vs Luis Castillo (10-4, 2.63 ERA)
(8/6) 4:10 PM PT @ FS-W: Jose Suarez (2-2, 5.66 ERA) vs Anthony DeSclafani (6-6, 4.07 ERA)