Three LA Angels Storylines to Watch for the Rest of 2019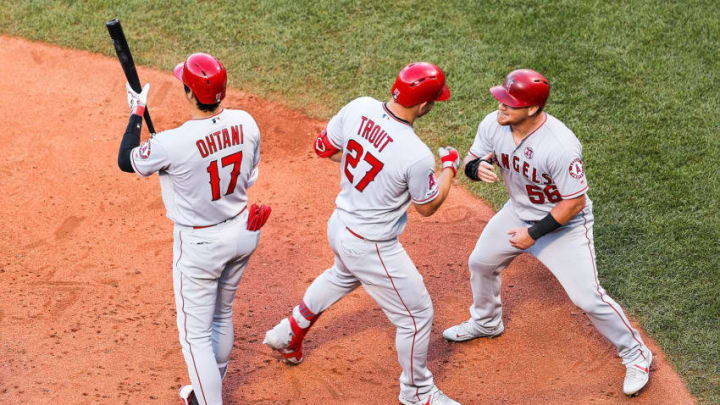 BOSTON, MA - AUGUST 10: Mike Trout #27 high fives Kole Calhoun #56 of the Los Angeles Angels after hitting a two-run home run in the sixth inning of a game against the Boston Red Sox at Fenway Park on August 10, 2019 in Boston, Massachusetts. (Photo by Adam Glanzman/Getty Images) /
BOSTON, MA – AUGUST 11: Kole Calhoun #56 of the Los Angeles Angels hits a solo home run in the eighth inning against the Boston Red Sox at Fenway Park on August 11, 2019 in Boston, Massachusetts. (Photo by Kathryn Riley/Getty Images) /
The LA Angels are out of the Wild Card hunt for 2019. A disastrous start to August doomed them, but there are still three major storylines that should keep Halo fans watching for the rest of the season.
The Final (?) Months of Kole Calhoun
As all Halo fans know, this season could very well be Calhoun's last in Anaheim. He has been Mike Trout's running mate for nearly his entire career, and the possibility of seeing that come to an end is very real.
So instead of debating whether or not the Angels should have traded him at the deadline, why don't we just enjoy what could be the final 50 games for Calhoun in the white and red? With an expensive club option next year, along his offensive revival and always stellar defense, Calhoun could have a flurry of suitors come free agency.
Want your voice heard? Join the Halo Hangout team!
Calhoun's leadership won't be replaced by top prospect Jo Adell, or whoever fills his hole should he leave. That's no knock on any other player, but a testament to how much Calhoun means to the Angels and their fans. He plays his heart out every time he steps onto the diamond and was an emotional leader after the tragic passing of Tyler Skaggs.
There's no doubt Calhoun has value beyond 2019 for the Angels, should they choose to pick up his option or renegotiate a new deal with him. However, there's no certainty when it comes to free agency, so let's enjoy what could be the Red Baron's final curtain call in Anaheim.