LA Angels #3 prospect super athlete Jordyn Adams has unlimited potential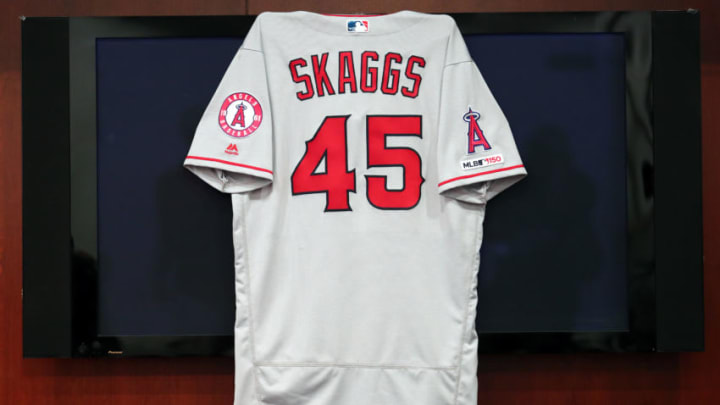 ARLINGTON, TEXAS - JULY 02: A view of a jersey belonging to Tyler Skaggs #45 of the Los Angeles Angels during a press conference held at Globe Life Park in Arlington on July 02, 2019 in Arlington, Texas. to address the pitcher's death on Monday, July 01, 2019. (Photo by Tom Pennington/Getty Images) /
The LA Angels have made a habit over the past few drafts to take players who are not only good baseball players, but superb athletes as well. Two-sport high school star Jordyn Adams falls in that mold.
When the LA Angels drafted Jordyn Adams in the first round of the 2018 Amateur Draft out of Green Hope High School in North Carolina he had already been offered a full scholarship bythe University of North Carolina to play both baseball and football. The Angels enticed Adams to forego college and sign with the team and he was sent to the Angels Rookie League where he played three game last season going 7 for 13 with four RBIs and four stolen bases.
This season Adams was placed at Low Single-A Burlington and he struggled the first month of the season batting close to .160. Then the light bulb clicked and Adams started showing his extraordinary talent and has raised his batting average to .252.  He has hit seven homers with 31 RBIs and stolen 12 bases.  His OBP is a respectable .347.  Adams just return from a long stint on the injured list due to a severe ankle sprain.  Adams in only his second game back went 3 for 3 with a home run and two RBIs helping the Bees to the victory.
Adams knows it will take some time, but he is willing to put in the work.
"I got the opportunity to start my professional career right away so I took it," said Adams when asked why he chose baseball over college. "I have played baseball longer than football, since I was three years old, so it was an easy decision to go with baseball over football. It's fun waking up playing baseball every day.  It was a struggle at first, but I just keep working hard each day and trust the process."
More from Halo Hangout
The Angels have a plethora of talented outfielders in their minor league system with Jo Adell, Brandon Marsh, Orlando Martinez, and Torii Hunter Jr.to name a few.  Plus in the majors the Angels have Mike Trout, Justin Upton, and Kole Calhoun.  With all the outfield talent it might intimidate some players, but Adams just takes it in stride.
"It's really something to looking forward to being a part of team like that with so many talented players," Adams said. "I just will continue to play to the best of my ability. I don't get caught up thinking about moving up or anything like that, because that is when you lose focus. I don't look ahead, I just stay grounded and work hard wherever I am and try to do whatever I can to help the team."
The 19-year old Adams has mostly been playing in centerfield for the Burlington Bees                            And has shown the ability to track down a lot of balls most center fielders would not be able to get to.  Adams prides himself on being an all-around player who can make a difference in a game in many ways.
"My speed and my defense are my best attributes, but I can hit for power too," Adams said. "The biggest thing I need to show is consistency. If you can do that then you are ready to play in the majors. Baseball is a game of consistency.. The people who make it to majors are those who have found a way to be successful day in and day out."
As for having a former big leaguer in Jack Howell as his manager, Adams said it is very helpful to him and the other players.
"It's definitely positive because he know where we are coming from as he has been in our shoes. He has been there before and know what it takes to make it to the majors," Adams said. "Having someone with that kind of insight always helps you out every day."
Adams had a chance during Spring Training this year to meet and talk to many of the Angel players and said it was a very positive experience.  In particular he named late Angel pitcher Tyler Skaggs as one who took some time to talk to him.
"When I first was in Spring Training Tyler (Skaggs) went out of his way to make me feel welcomed and always took the time to see how I was doing and talk to me," Adams said. "He and I had a pretty good relationship and it was definitely sad what happened. Seeing what happened on that Friday night when the Angels honored him was a very fitting tribute. It doesn't surprise me because of the way he always went out every night and gave it his all and his teammates did that for him. It was special."
Jordyn Adams is definitely a future star in the making and could make up a very talented and athletic outfield in Anaheim one day with possibly Jo Adell and Mike Trout playing next to him.  But who is Jordyn Adams and what can you expect from him. Why not go straight to the source.
"I am a very emotional player who will play the game with passion and lay it on the line every night. What you see is what you get," said Adams of his personality and style of play. "I am a team guy for sure. I will do whatever it takes to help my team win.  I will work hard every day and leave it all on the field."
If Adams can keep it up in the higher level of the Angels minor league system you will see him in Anaheim sooner rather than later and that will be fine with.
"It has been a dream of mine ever since I was a kid to make it to the majors.  It will be great whenever it happens."