LA Angels Moments of the Decade #1: The Tyler Skaggs No-Hitter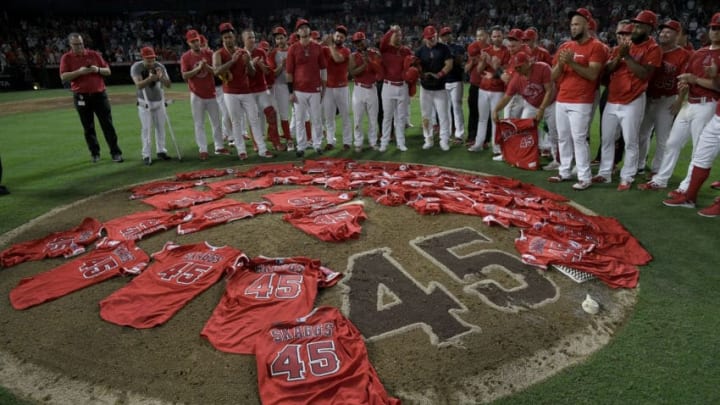 ANAHEIM, CA - JULY 12: Los Angeles Angels of Anaheim players lay their jerseys on the pitchers mound after they won a combined no-hitter agasint the Seattle Mariners at Angel Stadium of Anaheim on July 12, 2019 in Anaheim, California. The entire Angels team wore Tyler Skaggs #45 jersey to honor him after his death on July 1. Angels won 13-0. (Photo by John McCoy/Getty Images) /
As soon as I sat down to write out what the top ten moments for the LA Angels and their fans were for this decade, I penciled in #1 immediately.
The truth is, there wasn't a better moment in all of sports in 2019 than when the LA Angels returned to Anaheim in front of a sold out crowd to honor Tyler Skaggs. Even before the night became historic, the pregame was chilling.
The pregame reached its peak when Debbie Skaggs, Tyler's mother, threw out the first pitch. After writing Tyler's initials in the mound, Debbie uncorked an absolute missile right down the pipe to a crouched Andrew Heaney. After that, the Angels took the field with every single player donning #45 and the same last name: Skaggs.
More from Halo Hangout
"She went out there and threw an absolute perfect pitch," starting pitcher Taylor Cole said. "It couldn't have been better. … It set the tone for the rest of the way."
We all know what happened next. Cole and Felix Pena combined to throw a no-hitter that will go down as the greatest moment of this decade for the Angels. That night is one of those nights where every Angels fans will remember where they were watching, who they were with, and every minute detail surrounding that night.
The night would have been special enough after the Angels scored 7 runs in the first inning, highlighted by a 454 home run courtesy of Mike Trout. They'd go on to score 13 runs. Skaggs was born on the 13th of July.
The penultimate moment of the night came via the very last out. An absolute rocket hit towards Luis Rengifo at second base, bobbled and recovered, then thrown to first for the final out.
There's too many great moments and soundbites that came after that out. Mike Trout running in from center field to celebrate with his teammates. Felix Pena pointing to the heavens, and Dustin Garneau embracing him between the mound and home plate.
But the image that will live on forever is the #45 jerseys scattered on the pitching mound. Watching the broadcast as each player took their turn to delicately place their jersey on an open area, embracing teammates, and wiping away tears was a moment filled with such raw emotion that it left a permanent mark on not just me, but Angels fans everywhere.
The 2019 season for the Angels was one to forget. However, July 12th, 2019 is a day that Angels fans will never forget. A night where each and every single one of us watched our team honor Tyler Skaggs in a way none of us could have imagined.
A night that every single all Angels fans everywhere were nasty.