Angels five worst signings of the past decade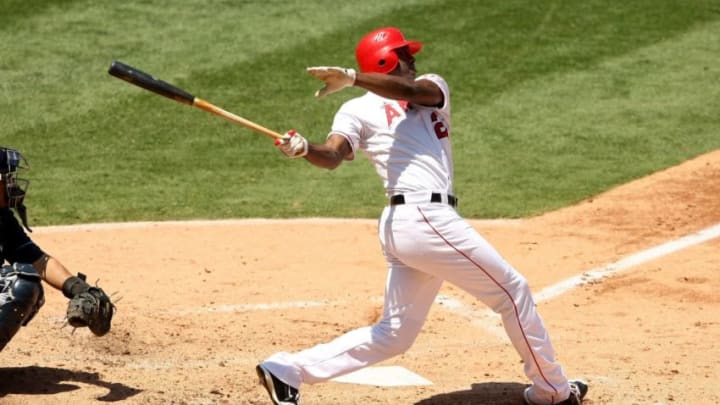 ANAHEIM, CA - AUGUST 12: Gary Matthews Jr. #24 of the Los Angeles Angels of Anaheim bats against the Tampa Bay Rays on August 12, 2009 at Angel Stadium in Anaheim, California. The Angels won 10-5. (Photo by Stephen Dunn/Getty Images) /
2) Albert Pujols
10-years, $254 million
The contract that keeps giving. Albert Pujols, a three-time MVP, considered the best player in all of baseball before Mike Trout took over the crown, signed a 10-year, $254 million contract with the Angels in 2011 that was the second highest in baseball history at the time (to Alex Rodriguez 10-year, $275 million).
The signing coincided with the Angels agreeing to pay starter CJ Wilson five-years, $77.5 million in an offseason that broke the bank, but failed to produce a playoff team.
Pujols, 32-years-old at the time of the signing, was coming off his worst season in the majors, although still a pretty impressive one by most players standards. In 2011, he hit 37 home runs, while batting .299/.366/.541. Since breaking into the big leagues in 2001, the future Hall-of-Famer put up an impressive run of consistency that led to ten All-Star appearances, six Silver Slugger awards, two Gold Gloves, and two World Series championship.s
Pujols deserved to be paid a King's ransom, but the problem for the Angels is that they were left paying for the value he produced in St. Louis. There was no reasonable way to expect he could continue the same production on the back-end of his career, which has proven true in the eight seasons since his signing.
After batting .328/.420/.617 over eleven seasons with the Cardinals, the first baseman has dropped his numbers to .258/.314/.450 over the past eight seasons with the Angels. While his power has been somewhat consistent, the days of him batting well over .300 every season had past him by the time he got to The Big A.
Amazingly, the Angels still owe the 40-year-old veteran $59 million over the next two seasons.