Angels five worst signings of the past decade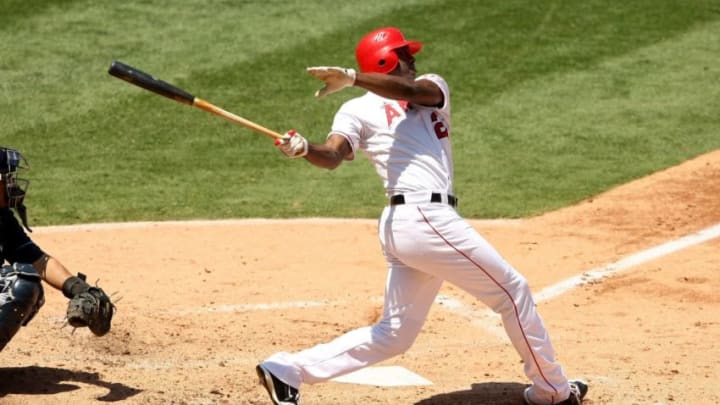 ANAHEIM, CA - AUGUST 12: Gary Matthews Jr. #24 of the Los Angeles Angels of Anaheim bats against the Tampa Bay Rays on August 12, 2009 at Angel Stadium in Anaheim, California. The Angels won 10-5. (Photo by Stephen Dunn/Getty Images) /
1) Josh Hamilton
5-years, $125 million
You knew this one was coming. After inking Albert Pujols to a 10-year, $254 million contract the previous winter, the Angels kept spending like a teenager with a credit card. The Angels made the biggest splash of the 2012 offseason by signing Josh Hamilton, 32 years-old at the time, to a five-year, $125 million contract.
Hamilton is a story of a baseball player who reached incredible highs, winning the American League MVP award with the Texas Rangers in 2010, while also falling to incredible lows, suffering a drug relapse after his second season with the Angels.
Upon arriving to Anaheim, the left-handed power slugger immediately experienced a drop in production, cutting his home run total from 43 in 2012, his final season in Texas, to 21 during his first campaign with the Halos. He played in 151 games during the first year of his mega-contract, but was then limited to 89 games in an injury-marred 2014 season.
After suffering a relapse in the 2015 offseason, the Angels were ready to move on from the troubled slugger and eventually traded him back to Texas, while agreeing to absorb the majority of the $83 million still owed to him over the final three years of his contract.