Mike Trout learns how to change first diaper while in quarantine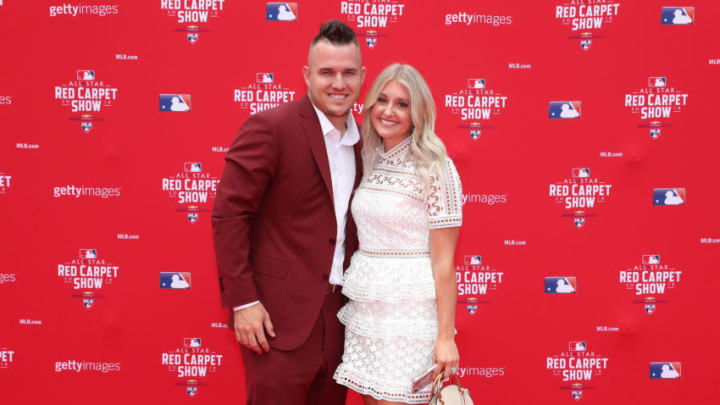 WASHINGTON, DC - JULY 17: Mike Trout #27 of the Los Angeles Angels of Anaheim and the American League and wife Jessica Tara Trout attend the 89th MLB All-Star Game, presented by MasterCard red carpet at Nationals Park on July 17, 2018 in Washington, DC. (Photo by Patrick Smith/Getty Images) /
Los Angeles Angels superstar Mike Trout is finding creative ways to stay busy during the quarantine.
Mike Trout, who has won three MVPs and seven Silver Slugger Awards, is trying to master a new skill while stuck in quarantine.
Trout and his wife Jessica are expecting a baby in August. As the Los Angeles Angels superstar sits at home waiting for the baseball season to begin, he is picking up some key Dad skills.
On Ryan Dempster's new show Off the Mound, which debuts on the Chicago Cubs' new television network on Friday, Trout gains a valuable lesson on how to change a baby's diaper. Dempster, a father of four, has had plenty of practice with the fatherly task, so he thought it would be beneficial to give the centerfielder a tutorial.
Trout practiced the diaper-changing technique on a stuffed animal. He admitted, "this is the first diaper I have ever put on, ever." You can watch the video clip here.
America learned the Trouts are having a baby boy back in March when the couple shared a video highlighting when Mike learned the news.
While Trout is anxious to get back on the baseball field, he is skeptical of the reported plan to sequester players in Arizona for the 2020 season, calling the proposal, "pretty crazy." With his wife expecting a baby later in the summer, the centerfielder doesn't want to risk missing the childbirth if he is required to remain quarantined in Arizona.
The 28-year-old is in the second year of a $426.5 million extension he signed last March. He will have plenty of money to keep his newborn child in fresh new diapers and pretty much anything else he wants.
Angels fans are hopeful a season returns so the best player in baseball can continue to build on his Hall-of-Fame credentials while he is still in the prime of his career. The Halos added Silver Slugger Anthony Rendon to their lineup in the offseason. They are hoping to improve on a disappointing 72-90 record last year.