Which Angels received passing or failing grades in 2020?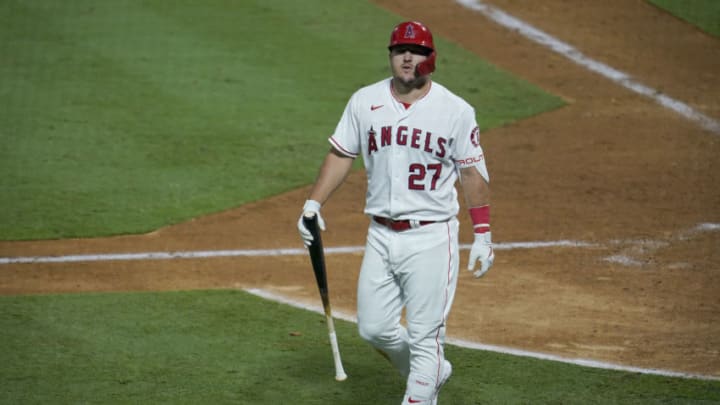 Mike Trout, Los Angeles Angels (Photo by John McCoy/Getty Images) /
Los Angeles Angels, Anthony Rendon Mandatory Credit: Angels Baseball/Pool Photo via USA TODAY Network /
Angels: 2020 Season Grades – Infielders
Jared Walsh: B+
Walsh started off the 2020 season struggling as he had to be sent down to the alternative site to try and work on some things and get his bat right. Then, during the month of September, he found his way back into the Angels lineup and started producing huge numbers for the team. He batted a slash line of .337/.368/.744 in the month of September as well as a tOPS+ of 129 which is 29 points higher than league average. He'll look to carry that kind of success into next season and continue to compete alongside Albert Pujols for first base and try to prove that the short month of September wasn't a fluke.
David Fletcher: A
Fan-favorite David Fletcher carried his great success from last season as he produced even greater numbers this season than in 2019 even if it was a short season. He had a line of .319/.376/.425 with an OPS+ of 121, while these impressive numbers could be seen as a small sample size, everything from this season is a small sample size given the 60 game schedule. There is no doubt that David Fletcher is one of the best hitters for the Angels and doesn't seem to give up an at-bat as he took the count full in 25 plate appearances this season. His versatility is another reason why he is so special because he can play multiple positions at an average or above-average defense, that kind of production at the plate and adequate fielding percentage at multiple positions made him a key player in the Angels roster.
Anthony Rendon: A-
The first season of one of the biggest acquisitions in Angels franchise history in Anthony Rendon had a slow start to the season but started picking it up later into the season. He started horribly in the month of July getting used to his new team, Rendon hit .167/.474/.417 with an OPS+ of 97 and didn't contribute too much. However, something changed for him within a short time as in August he ended up hitting .306/.429/.510 with an OPS+ of 105 and he seemed to be his old self again. Despite where the Angels finished, Rendon did all he could and proved why he is one of the top third basemen in the game and made his first year as an Angel a must-watch. He'll get a proper welcome to Anaheim once fans are allowed back in stadiums and they can cheer on their All-Star third basemen.
Albert Pujols: D+
This year was another disappointing year in terms of production from one of the greatest hitters of all time, and fans are just wondering how much longer will they have to see Pujols in the lineup. The Angels will take any production from Pujols as just a bonus as he's shown that age has caught up to him physically and that he has no show of what he had when he was with the Cardinals. He produced a slash line of .224/.270/.395 with six home runs and 25 RBI's in this short 2020 season. The only reason why Pujols didn't fail is because of his knowledge of the game itself which is irreplaceable. No matter what his future looks like as a player, he's still one of the most respected players in the game and can teach valuable lessons to younger generations in the game.
Tommy La Stella: B+
La Stella was a great hitter at the plate for the Angels and a fan favorite among many due to his consistency at the plate and grit. With the Angels he hit for a .273 batting average with 4 home runs and 14 RBIs before he was eventually traded to the Oakland Athletics for Franklin Barreto. He will be a free agent during the offseason, however, the Angels might not bring him back due to the fact that they traded him and should be focusing their resources on pitching. For two season he with the Angels, he became a surprising power hitter and an All-Star back in 2019. Whoever he ends up signing with, they are getting a consistent hitter and if the power comes back in a full season, he'll be dangerous at the plate.
Andrelton Simmons: A
Simmons proves once again that he's still one of the best shortstops in the game, flashing amazing plays at the position and makes it look easy while doing it. In his free-agent year with the Angels, he bounced back in terms of production at the plate with a slash line of .297/.346/.356 which was a significant improvement from what he did last season. No matter how his bat plays, his skills are mostly with the glove as he makes almost impossible plays look like he does it with a flick of the wrist and teams should be aggressive in wanting him. He skipped the last series with the Angels as he opted out of the season which led to speculation about him returning with the Angels. His asking price is expected to be high and the Angels may not have met up to his terms and decided to tell him that he won't be coming back, again this is purely speculation and his career with the Angels will be up in the air until he makes a decision.