Which Angels received passing or failing grades in 2020?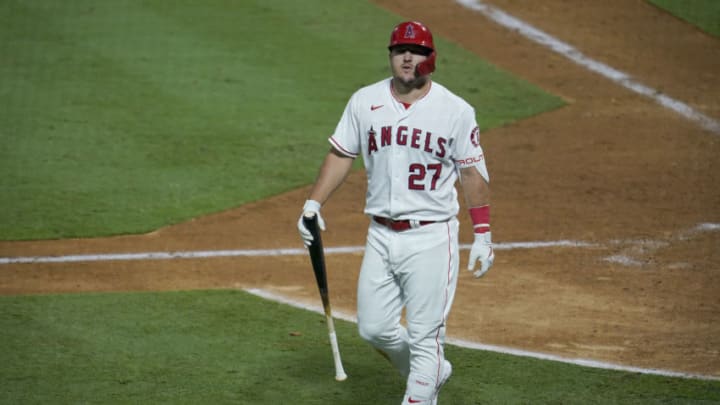 Mike Trout, Los Angeles Angels (Photo by John McCoy/Getty Images) /
Los Angeles Angels, Mike Trout Mandatory Credit: Robert Hanashiro-USA TODAY Sports /
Angels: 2020 Season Grades – Outfielders
Justin Upton: C-
Upton was traded to the Angels in the hopes of him becoming their everyday starting left fielder, he has done that, however, not to the performance that the Angels should be getting. He's also been injury prone since coming to the Angels, he's been placed on the injured list multiple times since coming to Anaheim, dealing with something called Turf toe back in 2018 which caused him to miss the start of the season, and also dealt with patellar tendinitis in 2019 which forced him to miss the latter part of the season. With that, his numbers haven't been too impressive the last couple of seasons, and 2020 wasn't too spectacular either as his slash line was .204/.289/.422 with an OPS+ of 93 in the shortened season. He still has two more years on his contract, but with the Angels having Brandon Marsh still in their system and other outfielders that are still developing, it will be interesting on what the Angels do after his two years are up.
Mike Trout: A+
Even in a shortened year and a child within that same season, Trout continued to dominate and showed why his name still needs to be there in terms of greatest of all time. His slash line was an impressive .281/.390/.603 with an outstanding OPS+ of 168. He's definitely molded into one of the leaders in the clubhouse and a mentor to some of the younger players that are on the team. The term "dad strength" definitely applied to him in the month of August as when he returned from witnessing the birth of his child, he hit 11 home runs with 28 RBIs within 99 at-bats. If there's one weakness, it's not even on his skill level, it's on marketing and getting his name more known, which can only happen when the Angels eventually get to the postseason again.
Brian Goodwin: C+
Goodwin was a sneaky pickup by former Angels general manager Billy Eppler, as he was mostly a filler in the Angels outfield until one of the Angels top prospects was ready for a call-up. But in his time with the Angels this season, he hit to a .242 batting average with four home runs and 17 RBIs until he was traded to the Cincinnati Reds for their minor league pitcher of the year. He was a player that consistently wanted to help the team in any way possible. Unfortunately, the Angels turned into sellers and he was used to getting some pitching help for the team in the future.
Jo Adell: D-
Adell came into this year as the Angels' best prospect and had high expectations from the team and fans once he got called up. Unfortunately, his first season in an Angels uniform didn't impress too much and he also had a couple of embarrassing plays that involved balls bouncing out of his glove that resulted in home runs. His slash line was .161/.212/.266 and while that wasn't good, this was his first season in the big leagues, and on top of that, there were no fans there that could appreciate his long-awaited call-up. There are a lot of people that remember that Trout struggled when he first got to the big leagues and was able to make the adjustments needed to be the player he is today. Expect Adell to do the same thing, especially if we get a full season of play for him to get a chance to make adjustments during the season.