Which Angels received passing or failing grades in 2020?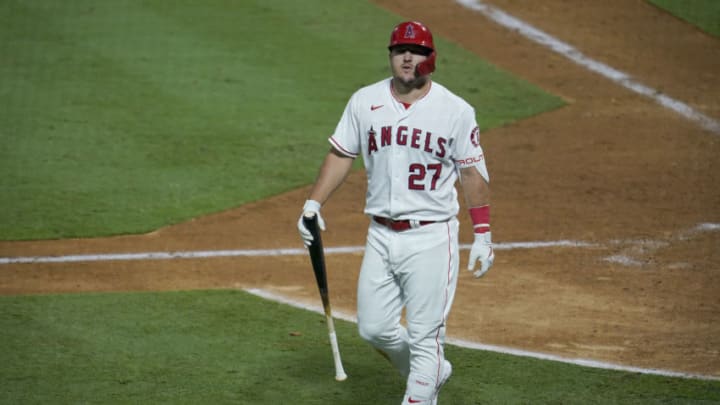 Mike Trout, Los Angeles Angels (Photo by John McCoy/Getty Images) /
Los Angeles Angels, Dylan Bundy Mandatory Credit: Tim Heitman-USA TODAY Sports /
Angels: 2020 Season Grades – Starting Pitchers
Andrew Heaney: C+
Heaney came into the 2020 season being the front end starter for the Angels once again and pitched to a mediocre performance. He had an ERA of 4.46 in 66.2 innings pitched with 70 strikeouts, which isn't too good considering he is supposed to be looked at as the ace of the rotation. This is Heaney's sixth season with the team, and he hasn't really taken that next step that the Angels have been hoping for. He's performed more like a 3 or 4th spot in the rotation type starter, which says something about the Angels starting staff. Even with the addition of pitching coach Mickey Callaway, Heaney still performed to average performance over the 2020 season which should make fans wonder if a new pitching coach did anything for him.
Dylan Bundy: A
Bundy was a nice surprise pickup for the Angels as they traded for him with the Baltimore Orioles. He pitched to a superb 3.29 ERA in 65.2 innings pitched with 72 strikeouts which would put him in talks for the AL Cy Young award if it wasn't for even more impressive pitching coming from other players like Shane Bieber of the Indians and Gerrit Cole of the Yankees. Angels general manager Billy Eppler was known for taking low-risk high reward players and seeing if one of these types of moves will someday pay off, well it looks like Bundy did. He quickly turned into the true ace of the staff for not only his performance but the competitiveness he shows on the mound. Something clicked with Bundy since he came to the Angels, even in Spring Training before it shut down, Bundy was looking impressive and fans were wondering if he could keep it up when the season restarted. The Angels are looking for that continued success from Bundy next season as he still has one more year left and the team didn't pull the trigger on trading him, even though rumors were high on him.
Griffin Canning: C+
Canning was entering his sophomore season with the Angels, looking to prove he is the real deal after a lackluster performance in 2019. His numbers were definitely better than last year as he had an ERA  of 3.99 with 56 strikeouts in 56.1 innings pitched. Angels fans are still hoping that he can start adjusting to pitching in the Major Leagues as he was the top pitching prospect for the Angels when he was called up in 2019. He's shown flashes of success in certain games this season, however, he hasn't been able to fully put things together in order to help his cause overall. One thing to notice is that he starts to struggle when he falls behind in the count to batters as in 2020 batters were hitting to a .471 batting average, .471 OBP, and 1.000 SLG when behind to hitters 1-0. Those numbers are even worse when he's behind 3-1 in the count, which suggests that he needs to come up with some different type of approach when it comes to falling behind to a hitter in the count.
Patrick Sandoval: D
This was also Sandoval's second year in the big leagues and it didn't fair too kindly to him as well. He pitched to a 5.65 ERA with only 33 strikeouts in 36.2 innings pitched, his stuff looks good when he's on the mound as he as a smooth and clean delivery, however, for whatever reason it doesn't translate to success. One thing to keep in mind is his age. He's only 23 with only two partial seasons under his belt. He still has plenty of time to figure things out on his own, however, it will be up to the Angels if they can afford to sit on their hands and wait for him to develop. Unless he shows improvement next season, the Angels probably won't waste too much time and either uses him more in a bullpen role (which is something I don't suggest) or send him down to work on getting things until he gets it right.
Jaime Barria: B-
Barria is in his third season with the Angels and has shown flashes of quality pitching just like Griffin Canning, however, just like him, it's still not enough to trust in him consistently. In the 2020 season, Barria had a 3.62 ERA with 27 strikeouts in 7 games with a total of 32.1 innings pitched. He started in 5 games and came on in relief in 2 which is something that the Angels need to figure out with him next season, whether they want him to stay as a starter or go to the bullpen. Same as Sandoval, he won't be getting enough work in the bullpen and what's worse for Barria is that he keeps switching roles that don't allow him to focus on one area. He might say different about starting and relieving, but having that pitcher not fully know their role on the team may hurt his confidence and won't give him the time to fully develop.
Julio Teheran: F
Teheran didn't pitch too much in an Angels uniform, one of the reasons why is because he was battling his positive case with COVID-19, and while that isn't to blame for his performance, it did get him a late start to the season. He was only able to start 9 games for the Angels in which he had a horrible 10.05 ERA in only 31.1 innings pitched, for whatever reason Teheran couldn't figure it out with the Angels and didn't help his cause as he was only on a one year contract. This opportunity with the Angels was to help him get back to form and help him on the free-agent market in the offseason, instead, he will now look to see if another team wants to take another shot on him.