LA Angels: 3 reasons to sign Masahiro Tanaka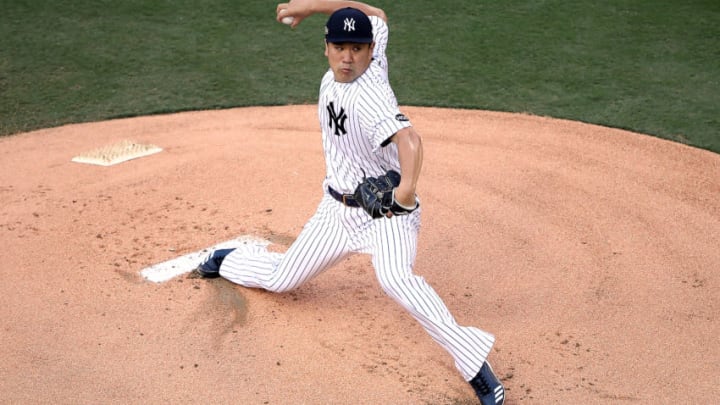 SAN DIEGO, CALIFORNIA - OCTOBER 07: Masahiro Tanaka #19 of the New York Yankees delivers the pitch against the Tampa Bay Rays during the first inning in Game Three of the American League Division Series at PETCO Park on October 07, 2020 in San Diego, California. (Photo by Sean M. Haffey/Getty Images) /
The Angels need rotation help and could find it in the form of Masahiro Tanaka.
Tanaka was the gem of the 2014 free agent class coming off of a stellar career in Japan. He ended up signing a monster contract with the Yankees cementing himself in the Bronx through 2020. Most can agree the expectations of that contract were never met for a multitude of reasons including a reconstruction of his UCL at the beginning of the deal.
Since then, he has been producing middle-of-the-rotation numbers, but on a very consistent basis being the ace of the staff for several years. With Gerrit Cole coming in to lead the staff this year, Tanaka continued to put up average, yet effective stats in the shortened season. Going 3-3 across ten starts with a mid 3.00's ERA doesn't seem like the best thing on the market right now, but it could be more valuable than you realize to the Angels staff.
Coming off of a less than impressive 2019, he improved across the board and could be a very cost-efficient signing with the hopes of getting Mike Trout to the playoffs during his prime. The Angels have recently brought in new leadership in the front office with new GM Perry Minasian who is certain to bring in the pieces to do just that.
There is also the level of leadership Tanaka could bring to this staff with several playoff appearances and starts in huge moments which nobody on this Angels staff can boast. Their best pitcher from 2020 was Dylan Bundy who started his career with the lowly Orioles which surely didn't bring many high stress innings. Tanaka isn't going to be the one to bring the Angels over the hump, but he sure is a great building block.
Let's take a look at three reasons why the Masahiro Tanaka makes since for the Halos.