LA Angels News
Angels: Should 'Cuban Shohei Ohtani' Oscar Colas be given a look?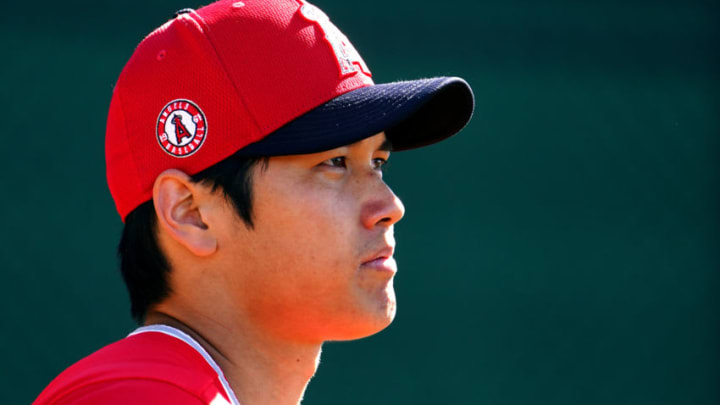 TEMPE, AZ - FEBRUARY 20: Shohei Ohtani of the Los Angeles Angels looks on during the Los Angeles Angels spring training at Diablo Stadium on February 20, 2020 in Tempe, Arizona. (Photo by Masterpress/Getty Images) /
The Angels already have two-way sensation Shohei Ohtani in tow, but they could find another two-way star in Cuban import Oscar Colas.
Shohei Ohtani is immensely talented and widely considered to the most well-rounded baseball player since the days of Babe Ruth in terms of the offensive and pitching abilities. Now, it seems another two-way superstar could be on his way to the major leagues.
Oscar Colas, a Cuban sensation, has been declared a free agent by Major League Baseball, according to Jesse Sanchez of MLB.com. Colas had been playing in the Nippon Professional League (NPB) for the Soft Bank Hawks, but had a multitude of issues with the Japanese pro league regarding his contract. He now will seek employment stateside with a major league club. However, some industry experts familiar with Colas' thinking is that he will wait until next season to receive a monster deal. Expectations are that Colas will begin working out for teams as early as January 2021.
Due to the COVID-19 pandemic, the July 2 (J2) international signing period will begin on January 15 and all indications are that Colas will be available. The young outfielder/pitcher lacks the professional experience to sign a major league deal with a club, so any team that has interest in Colas will be forced to grant him international pool money. This is unlike the Shohei Ohtani situation of a player coming from Japan as Ohtani was signed under different financial implications.
According to Eric Longenhagen of FanGraphs, Colas is "more stable prospect as a lefty first base/designated hitter/right field type" as opposed to a pitcher. He believes the 'Cuban Ohtani' moniker is a bit unfair to him given the lack of professional experience on both sides of the ball, unlike Ohtani.
The main question, though, is whether or not the Angels should pursue Oscar Colas. The answer is a resounding 'yes'. The Angels have lacked true impact moves in the international free agency market over the past few years and Colas might be the monumental move the team can make. The Angels have already been through the two-way player regimen with Shohei Ohtani and they can certainly do the same thing from the ground up with a player like Colas.
Only time will tell what Oscar Colas winds up doing, but the Angels should show interest in the two-way Cuban player.