Shohei Ohtani: Moonshot proves DH is superhuman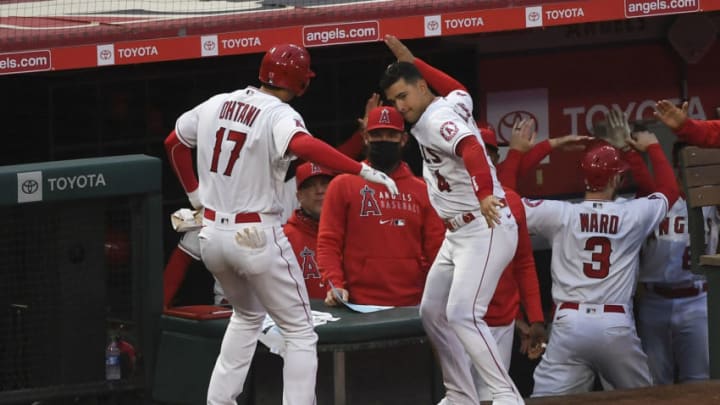 May 17, 2021; Anaheim, California, USA; Los Angeles Angels designated hitter Shohei Ohtani (17) is congratulated by shortstop Jose Iglesias (4) after hitting a two-run home run against the Cleveland Indians during the second inning at Angel Stadium. Mandatory Credit: Richard Mackson-USA TODAY Sports /
Mike Trout had to leave Monday night's game for the LA Angels.
It felt like another crushing blow to the LA Angels in a year where plenty has not gone our way.
Shohei Ohtani, however, had other plans.
If there was any doubt as to who has been the Most Valuable Player to the American League so far this year, there isn't anymore:
This blast shoots Ohtani to the top of the home run ranks. He's now the MLB's leading home-run hitter with 13 jacks on the year.
This one set the baseball internet on fire. It's refreshing to see Ohtani get the love that he's deserved, and it better keep coming for the ultra-talented ballplayer.
The best part about it, though, was that the ball wasn't anywhere near the zone. It was a 94 mile-per-hour fastball up well-above the zone.
Remember when Vlad Guerrero could hit base hits on pitches even up around his eyes? Ohtani channeled that on this homer.
People not only aren't supposed to pitch lights out innings and have a 2.10 ERA while raking at the plate, but people also aren't supposed to hit pitches this high out of the yard. There's just no correct way to pitch to Ohtani.
Fox has an idea…
These types of players not only don't come around often, but they also don't come around ever.
Measuring the true heart of a team is best done when that team is facing adversity.
Trout went down, but Ohtani picked his boys up. The slugger's got heart.