LA Angels: Justin Upton is an All-Star if he stays hot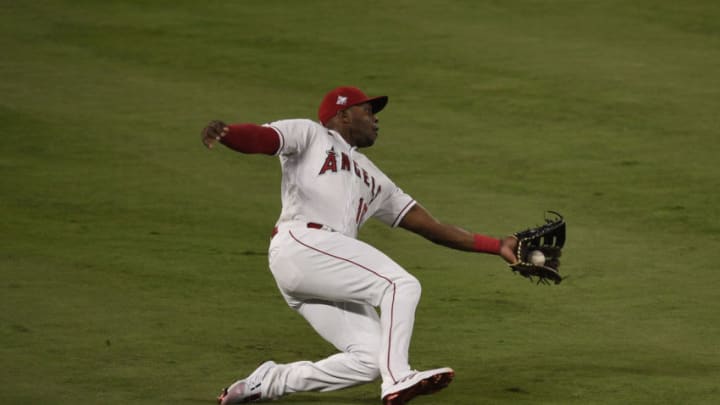 Los Angeles Angels left fielder Justin Upton (10) reaches to catch a ball hit by Kansas City Royals first baseman Carlos Santana (41). Mandatory Credit: Kelvin Kuo-USA TODAY Sports /
Justin Upton has been on a tear ever since Joe Maddon's had him in the leadoff spot for the LA Angels.
He's been batting leadoff since May 23rd, with the exception of one game where he batted cleanup (and went 1 for 3 with a walk and a homer).
Upton's been mashing the baseball since Maddon made him the leadoff man, clubbing six homers and driving in 12 RBI in the 15 games, and hitting .327/.415/.745. Yep, that's an OPS of 1.161.
If Justin Upton continues to play like this; add another LA Angel to your All-Star Game ballots.
He leads the team in all those categories except for being second in RBI to Anthony Rendon's 13, and being second in on-base percentage to Shohei Ohtani's .444 in the last 15 games.
He also leads the team with 15 runs in this timeframe, and 48.6% of his contact has been hard contact (second on team to Ohtani's 58.3%).
The last time Upton was an All-Star (2017), his numbers on the year were .273/.361/.540 with a .901 OPS, 35 home runs, and 109 RBI.
That's much less production than what he's been putting up lately, and if he can continue to play like this and get closer to that line, he very well could end up playing at Coors Field on July 13th.
He's got 28 games until then. Right now, he's at 14 home runs and 29 RBI on the year. If he continues to hit at the rate he has in these past 15 games, he'll be at 25 home runs and 41 RBI by the time of the game. That's a bit low on the RBI count, but he'll prove that he's been driving enough runs in lately that he'll have a case for the nod.
It's like with his batting average. If he continues to play like this, his batting average will of course improve, but it'll be at .264. That's not that great, but it will look a lot better if people see that he's been at .327 since May 23rd.
A streaking Upton is a scary baseball player. It's one that's awarded him huge contracts, three Silver Slugger awards, and taken him to the All-Star Game four times.
He can still get back there this season, he'll just need to keep his foot on the gas and not let up.
A guy who's at 25 home runs by the All-Star Game should get in, especially when all he needed was a lineup change and confidence booster to find his rhythm again.