LA Angels: Upgrades for Tempe Diablo Stadium and Minor League players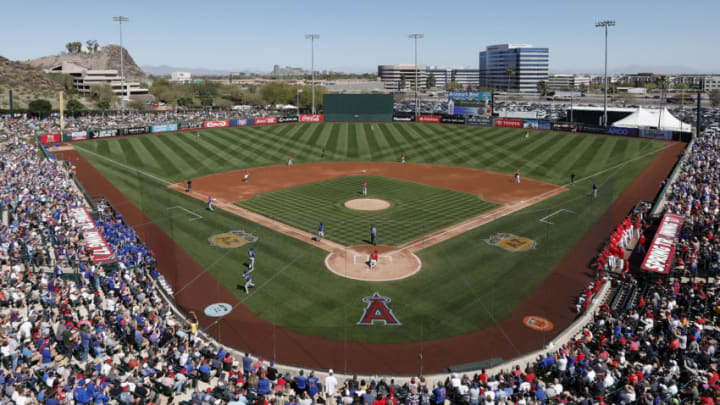 TEMPE, AZ - MARCH 06: A general view of the stadium during a spring training game between the Los Angeles Angels of Anaheim and the Chicago Cubs at Tempe Diablo Stadium on March 06, 2017 in Tempe, Arizona. (Photo by Tim Warner/Getty Images)"n"n /
The LA Angels have plans for $50 million in upgrades for their spring training site and center of minor league operations.
The stadium was built in 1968. It's the oldest ballpark in the Cactus League.
The last time the stadium was renovated was in 2005.
Diablo Stadium upgrades will be more shaded areas for LA Angels fans, and an improved food court and restrooms.
There will also be a new clubhouse for the LA Angels. A new scoreboard will be added.
The entire seating bowl will be renovated to include new shading structures. Lawn seating will be extended and there will be new retail areas along with a new entrance to the ballpark.
Funding for the renovations will be partially made by the club while about $40 million will be provided by the city of Tempe.
LA Angels minor league players will also have access to the new facilities.
As part of a new initiative by Major League Baseball, all ballclubs, including the LA Angels will now provide housing for all minor league players in the system.
Before the agreement between clubs was made this past Sunday, Minor League players had to live on $15,000 annually. To make ends meet they'd need to take on side work.
In a profession that demands consistency and excellence, that could be difficult on most players.
Many players are signed out of high school and don't receive a signing bonus. The players don't have access to health care when addressing off season injuries. They lack proper nutrition, surviving on junk food.
In a recent ESPN article, minor league players described living in a two bedroom apartment with six players. Sleeping on blow-up mattresses in kitchens.
Some players lived in vans and trucks next to minor league ballparks.
The anxiety and depression these players had while going through their living conditions were compounded by their normal job related stresses.
Here's hoping that the improvements at the LA Angels Tempe Diablo Stadium help these young players develop into productive players going forward.