Angels dysfunction reaches new heights with Shohei Ohtani, Anthony Rendon news
The Angels are a mess.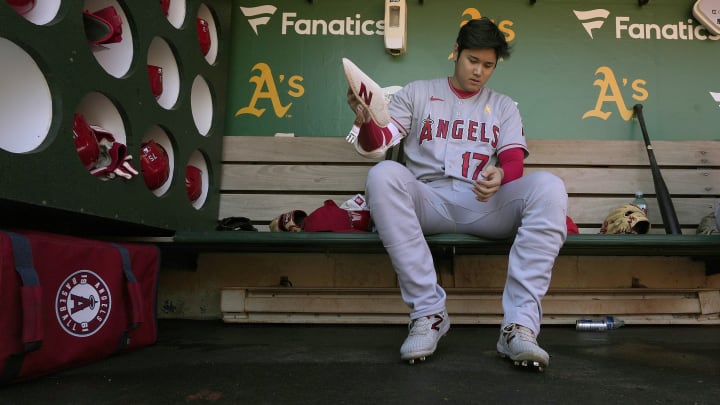 Los Angeles Angels v Oakland Athletics / Thearon W. Henderson/GettyImages
Friday, September 15, 2023, wound up being as dysfunctional of a day in Los Angeles Angels land as the team had dealt with all season. It started with Anthony Rendon, the Angels' expensive third baseman who had been out since July 4 with what we thought was a bone bruise, revealing that he had been dealing with a fracture and that's why his recovery had taken so long.
Why the Angels refused to reveal that when he had found that out weeks ago is beyond me, as the fan base has crucified Rendon for his inability to return quickly enough. After Rendon revealed the status of his injury, the Angels were embarrassed on their home field by the lowly Detroit Tigers, losing the game 11-2.
As if those things weren't bad enough, we come to find out after the game that Shohei Ohtani's locker had been cleared out. The Angels superstar who had not pitched since August 23 after being diagnosed with a torn UCL and had not hit since September 3 after dealing with an oblique issue, might have played his last game with the Angels.
Everything we know about Shohei Ohtani emptying out his LA Angels locker
Ohtani had been out since early September with the oblique issue, but the team had repeatedly said it was minor. Phil Nevin has said countless times before each and every game since the injury occurred that it was a non-issue that Ohtani was going to return to the lineup shortly and that this was just a day-to-day injury. There's every reason to question that now.
As Jeff Fletcher of the OCR points out, "It would be standard for a player's belongings to be cleaned out of his locker if he was done for the season, perhaps to have surgery. In this case, the normal timeline would be for that to occur after an announcement of what was happening with the player, not before."
The weird thing about this Ohtani situation is we have no idea why his locker is cleared out. If his season is over, this is standard. We just don't know what's ending his season. Is it the oblique? Is it Ohtani finally deciding to undergo a procedure for his Torn UCL?
Angels officials huddled up for 30 minutes once reporters found the empty locker per Fletcher and eventually said they'd have a new update for the media on Saturday. This tells me the Angels might've been blindsided by Ohtani emptying out his locker, but it's impossible to know anything because of the lack of transparency.
As Ohtani's season appears to be over, there's a very good chance he has played his last game for the franchise with him reaching free agency this offseason. This would obviously be a very disappointing way for this all to end.