Would The Los Angeles Angels Really Bring Back Howie Kendrick?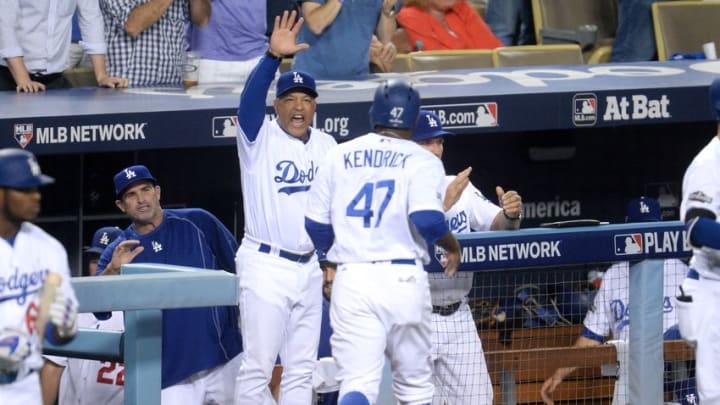 Oct 20, 2016; Los Angeles, CA, USA; Los Angeles Dodgers left fielder Howie Kendrick (47) celebrates with teammates after scoring a run in the fourth inning against the Chicago Cubs in game five of the 2016 NLCS playoff baseball series against the Los Angeles Dodgers at Dodger Stadium. Mandatory Credit: Gary A. Vasquez-USA TODAY Sports /
The Los Angeles Angels eventful offseason is in full swing. The Angels are linked to a couple of trade rumors, one is involving a former Angel player.
The Los Angeles Angels are rumored to be in talks with the LA Dodgers to acquire former Angel Howie Kendrick. Kendrick, according to Ken Rosenthal via Twitter, grew frustrated with his role with the Dodgers last season. As a result, Kendrick is looking for a new home.
Kendrick played for the Los Angeles Angels from 2006 to 2014. it was during that period that he made one All-Star appearance. He also was in the MVP race during the 2014 season.
This move is a good move for the Angels. The need for a second baseman is great, and Kendrick is a polished veteran who has a long relationship with Mike Scioscia. So, Kendrick coming back to Anaheim would be smart. Currently, Kendrick is in the final year of his contract and is going to make $10 million next season. Theoretically, the Angels could trade for
Theoretically, the Angels could trade for Kendrick without eating the cost of his contract. It is unclear who the Angels would offer for Kendrick. The Angels have Cliff Pennington as the primary starter for the second base position. Pennington is entering the final year of his two-year deal in which he'll make $2.25 million.
More from Halo Hangout
Overall, the biggest question about Howie Kendrick is going to be his production. Last season, he was woeful with a 90 OPS, his lowest since his rookie season. However, Kendrick produced 40 RBI's for the Dodgers last season.
It's also being reported by Jeff Fletcher of the Orange County Register that Billy Eppler is interested in free agent catchers. This is also interesting due to Carlos Perez placing second in the golden glove award. The word from Eppler is he wants a new catcher to "just to have."
Also, mlbtraderumors.com is predicting that Ivan Nova and Chase Utley will likely sign with the Angels. The prediction is that Nova will sign for a contract of four years at $52 million. Nova has had some injury issues, including Tommy John surgery. However, he has yet to turn 30 and has a lot to prove. If this comes true the Angels could use Nova in the starting rotation.
Utley completely contradicts the rumors involving his position teammate Kendrick. However, Utley would be a suspect signing even if it's a one-year $8 million deal. Utley struggles against left-handed pitchers and would be a risk on the defensive side of the field.
Next: Mike Trout Is An MVP Finalist
The Angels are subject to new and exciting rumors almost daily as we get into the full swing of the offseason. Stay with Halo Hangout for the latest news on these and other updates involving your Los Angeles Angels.