Way-Too-Early LA Angels Roster Prediction: Blockbuster Edition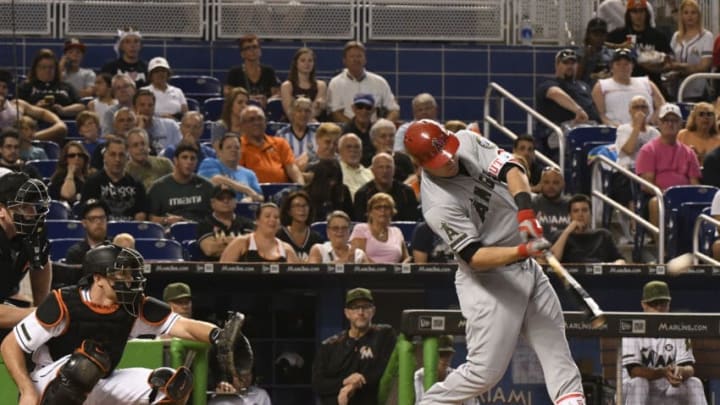 MIAMI, FL - MAY 27: Mike Trout /
ANAHEIM, CA – JULY 27: Dee Gordon #9 of the Seattle Mariners throws to first as Mike Trout #27 of the Los Angeles Angels of Anaheim is out on a double play in the fourth inning at Angel Stadium on July 27, 2018 in Anaheim, California. (Photo by Jayne Kamin-Oncea/Getty Images) /
Outfield
Okay the outfield admittedly gets a little far-fetched here, so lets start with the basics, then I'll explain.
Mike Trout is Mike Trout. He is the best player in baseball no matter what your MVP-ballot says, and will be the catalyst of the Angels in 2019 (and hopefully for 15 more years after).
Kole Calhoun was obviously one of the more interesting cases in 2018. While he was one of the worst hitters in baseball at the beginning of season, he spent the summer tearing up opposing pitchers. His performance in the second half was as memorable as his first was dreadful, but it likely kept Calhoun in the starting lineup considering his team-friendly contract.
Now, I said no Bryce Harper at the beginning of this, but Nick Markakis is just as good, objectively speaking. For starters, Markakis played every game last year, and has not played less than 155 since 2012. He had a solid slashline of .297/.366/.440 last season, and at 35-years old, can likely be signed for short-term contract in the range of $10 million a season.
Dee Gordon is still one of the fastest players in baseball. The Mariners are selling everyone they can, and quick, and the Angels should make Gordon the newest former Mariner. They do so by trading away two prospects with infielder Luis Rengifo and LHP Patrick Sandoval being shipped to Seattle.
While his .268 average last season won't inspire, he hit much better when playing in the outfield (.288 when playing centerfield vs. .258 when playing the infield).
Trout, Markakis, and Calhoun/Gordon would form one of the best outfields in the league. Oh, and before you mention Justin Upton….