Dear Tyler Skaggs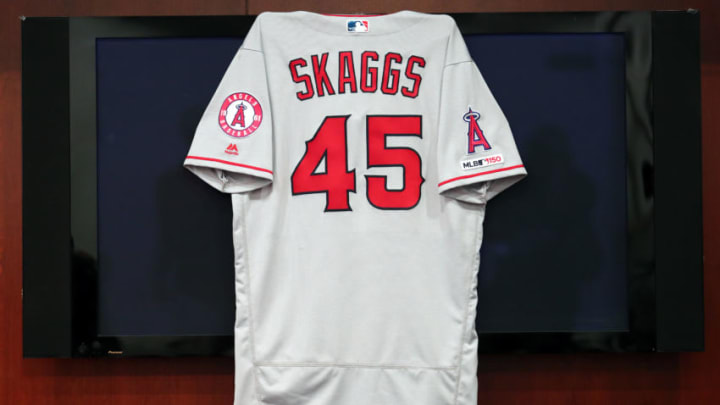 ARLINGTON, TEXAS - JULY 02: A view of a jersey belonging to Tyler Skaggs #45 of the Los Angeles Angels during a press conference held at Globe Life Park in Arlington on July 02, 2019 in Arlington, Texas. to address the pitcher's death on Monday, July 01, 2019. (Photo by Tom Pennington/Getty Images) /
Dear Tyler Skaggs, I never thought I'd be writing this type of article, but here I am.
Dear Tyler Skaggs, two weeks ago, Monday I looked down at my constantly buzzing phone as reports and tweets flooded in about your passing. I spent the next handful of minutes in shock, unable to call anyone, close my jaw-dropped mouth, or do anything but let tears roll down my cheeks. I didn't want to believe it. A similar feeling is creeping up on me now.
I called my mom and told her what happened, and listened on the phone as she went through a similar process sitting in her cubicle at work. The rest of our day and night was spent trying to grasp what happened, unsuccessfully.
More from Halo Hangout
Dear Skaggs, the following day your teammates took the field for the first time following your death. They played it with your jersey hanging in the dugout. The team pulled through and won for you, 9-4. Afterwards, they spoke to reporters, and shared their emotions during an excruciatingly painful seven minutes.
But somehow, at the end, laughs arose. "We're Nasty" morphed from something you'd exclaim after games into the rallying cry of an entire fan base.
Dear #45, the Wednesday following your death, I went to a concert down in the OC. Given your affinity for music, it only seemed fitting to stop by your memorial between the hats at The Big A afterwards. After a long walk to front of the stadium I couldn't have made alone, tears began filling my eyes again as I saw countless of flowers, hats, jerseys, and gloves piled up in your memory. It was one of the most heartwarming, and heartbreaking, things I have ever seen.
Dear lefty, Mike Trout took the stage at the All Star Game wearing your number. Tommy La Stella, too. And when the Angels returned home to start the second half of the season the following Friday, every member of the team was wearing your last name and your number.
About that night.
Dear Swaggy, your mom has an absolute rocket for an arm. She delivered a first pitch in your memory. Andrew Heaney caught it, the same guy who mimicked your curveball with the first pitch of his first start following your death. That was the beginning of a special, special night.
Taylor Cole and Felix Pena combined to throw a no-hitter that night. The offense scored 13 runs. They did all of this with you, Tyler. No just your name and number on their jerseys, but there is not a single person who was watching that game that would deny your presence at The Big A that night. You were as much a part of that game as anyone.
It was the most beautiful thing I've ever seen occur on a baseball field.
We're all starting to move on. Slowly, but we're getting there. The one thing that is clear to me, though, is that it is impossible for anyone to move on without you. There won't be an Angels game for the rest of my life where I don't think about you.
Dear Tyler Skaggs,
We're nasty.