Three LA Angels Storylines to Watch for the Rest of 2019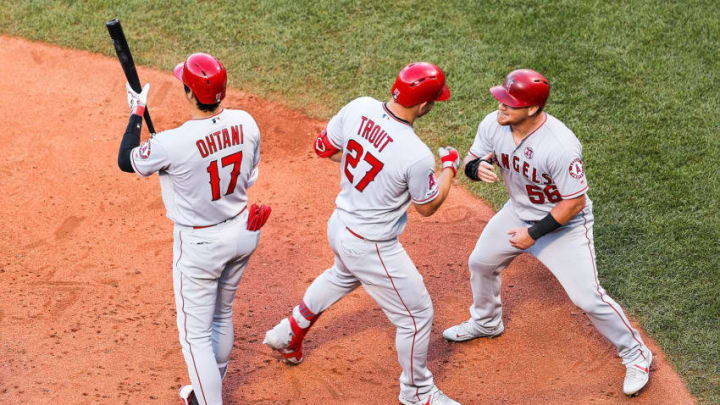 BOSTON, MA - AUGUST 10: Mike Trout #27 high fives Kole Calhoun #56 of the Los Angeles Angels after hitting a two-run home run in the sixth inning of a game against the Boston Red Sox at Fenway Park on August 10, 2019 in Boston, Massachusetts. (Photo by Adam Glanzman/Getty Images) /
BOSTON, MA – AUGUST 9: Mike Trout #27 of the Los Angeles Angels hits a double in the first inning against the Boston Red Sox at Fenway Park on August 9, 2019 in Boston, Massachusetts. (Photo by Kathryn Riley/Getty Images) /
The Best Season of Mike Trout's Career
Simply put, we all know how great Mike Trout is. At 28 years old, he's inarguably the best player in the league for a seventh consecutive season, and he may just go down as the best of all time.
With the final quarter of the season approaching, Trout is chasing a handful of records and milestones. He will surely pass his career high in homers of 41, and could reach the 50 dinger mark if he keeps up his current pace. The Angels' current record for most home runs in a season belongs to Troy Glaus, who hit 47 home runs in 2000.
Trout is also leading the league in home runs, tied with Christian Yelich with 39. Behind them, Cody Bellinger and Pete Alonso both have 38 dingers on the season. Between those four players, it will surely be a tight race towards the finish line.
Besides the home run race, simply watching Trout is reason enough to watch Angels games. Seemingly every game nowadays (literally), he is hitting a 450 foot home run, making an amazing defensive play, or walking three times.
He is the absolute best player in baseball, without a doubt, and he is having what is quite possibly the best season of his career.