Angels: Three current players who could become Hall-of-Famers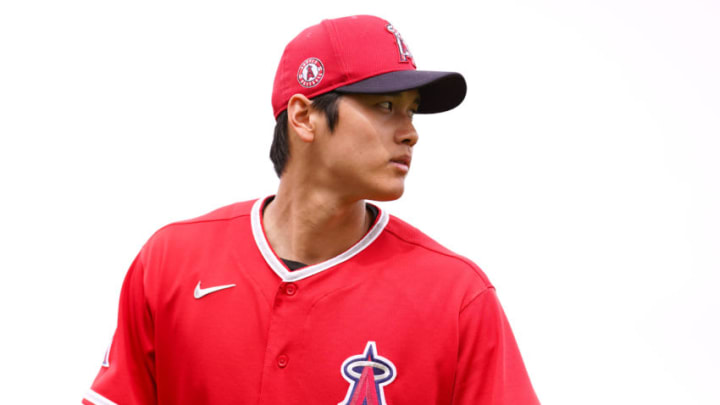 TEMPE, AZ - FEBRUARY 28: Shohei Ohtani of the Los Angeles Angels looks on during the spring training game against the Texas Rangers on February 28, 2020 in Tempe, Arizona. (Photo by Masterpress/Getty Images) /
TEMPE, AZ – FEBRUARY 25: Mike Trout of the Los Angeles Angels smiles during the Spring Training game against the Cincinnati Reds at Tempe Diablo Stadium on February 25, 2020 in Tempe, Arizona. (Photo by Masterpress/Getty Images) /
Mike Trout
The biggest challenge in front of Mike Trout, besides his team's challenge of winning a World Series, is how far up the all-time leaderboards he can climb before his career is over.
The three-time American League MVP has accomplished enough over his first nine seasons in the big leagues to justify a Hall-of-Fame enshrinement already. Besides the MVPs, he has won the Rookie of the Year Award, seven Silver Slugger Awards, Wilson's Overall Defensive Player of the Year Award, and has appeared in eight All-Star games, winning the MVP Award in two of those contests.
The 28-year-old centerfielder has led the league in runs scored four times, in on-base percentage four times, and was the American League's most dominant hitter in terms of slugging percentage three times. If getting on base isn't enough, he also led the league in stolen bases with 49 in 2012. His 200 career steals rank 12th among active players.
Mike Trout can do it all, and has done it all. It's amazing to think he still has the entire prime of his career ahead of him.
The latest projections by ZiPS on FanGraphs don't see him slowing down anytime soon. He is projected to hit 117 home runs over the next three seasons, nearly 50 percent of what he has already hit. Enjoy every minute you get to watch Trout play, because he is a first ballot Hall-of-Famer who should enter the Hall as an Angel for life.