Shohei Ohtani donates masks to Japanese hospital workers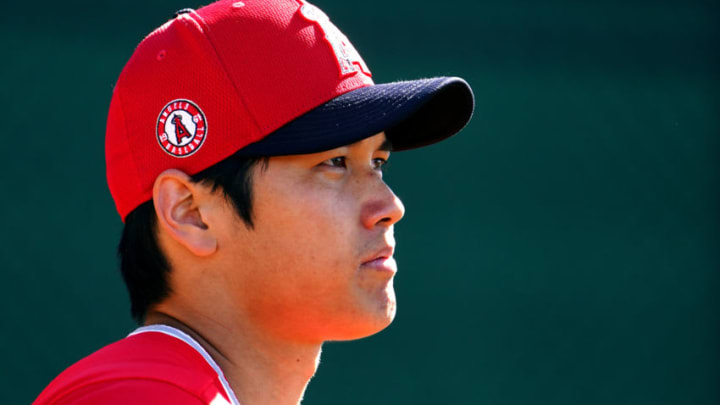 TEMPE, AZ - FEBRUARY 20: Shohei Ohtani of the Los Angeles Angels looks on during the Los Angeles Angels spring training at Diablo Stadium on February 20, 2020 in Tempe, Arizona. (Photo by Masterpress/Getty Images) /
LA Angels star Shohei Ohtani is donating face masks to help hospital workers in his native country of Japan.
Los Angeles Angels two-way player Shohei Ohtani is doing his part to help hospital workers living on the frontlines of the global fight against the coronavirus pandemic.
Ohtani made a generous donation to the Japan Mask Project on Friday.
"I'm sure it's hard for everyone," Ohtani said in a statement translated by Angels public relations. "But many people including the healthcare workers, are working hard right now to solve this. I'm hoping that this will help them. I think we can support each other through this, with kindness, appreciation and the thought of one another."
The Japanese star is pitching in during a critical time back in his home country. Japanese Prime Minister Shinzo Abe is under intense scrutiny for his handling of the public health crisis. He recently announced the government would hand out two reusable cloth face masks per household as the number of infected people has recently spiked. There are now 9,787 confirmed cases and 190 deaths in Japan, as of Friday, according to a tracking website hosted by Johns Hopkins University.
Ohtani is currently rehabbing from a knee injury and Tommy John surgery that has kept him off the mound since 2018. Angels general manager Billy Eppler provided an update on Ohtani's status in a virtual Q&A session with fans on Friday. He said Ohtani threw a bullpen session on Monday and Friday of this week, the latest consisted of 15 pitches, all fastballs, as he continues to make progress toward returning to game shape.
The Angels had set out a plan earlier in Spring Training to have Ohtani start the season in a designated hitter role at the plate, and then possibly pitch him on Wednesdays to space out his pitching starts and allow for the maximum number of days off around each start. Under a normal schedule, the team usually has Thursdays off for travel days.
"LA Angels: How lost 2020 season could impact Trout, Pujols milestones"
If baseball returns in 2020, it will do so under a compressed schedule that could see multiple doubleheaders played each week to try to make up games lost. This could present a challenge for the Angels in trying to ease Ohtani back into action, while maintaining a regular turn of his spot in the rotation. It is expected that rosters will be expanded to allow teams to carry extra pitchers to compensate for the heavier workload.