Angels will cost Mike Trout his fourth MVP award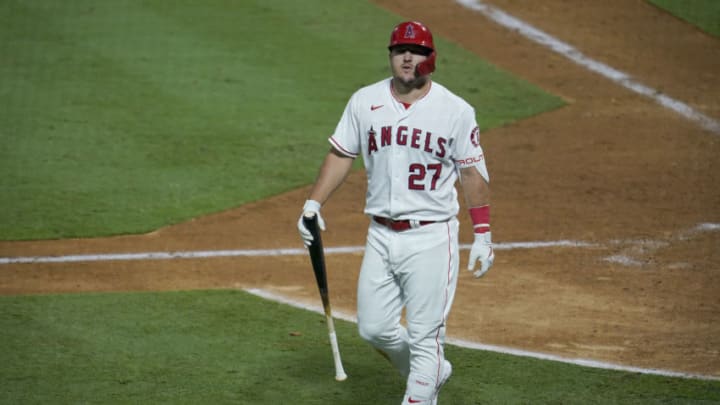 Mike Trout, Los Angeles Angels (Photo by John McCoy/Getty Images) /
Jose Abreu, Chicago White Sox (Photo by Ron Vesely/Getty Images) /
Outside of Mike Trout, who are the AL MVP Candidates in 2020?
As mentioned, the AL MVP field is fairly crowded. While Trout featured prominently among the leaders, he is not alone in the group. There is a healthy group of new horses in the field that could represent some serious competition.
Tim Anderson – Shortstop, Chicago White Sox
After a few seasons of solid, but not spectacular production in his first few seasons in the league, Anderson took to his prime in 2019. At the age of 26, the animated shortstop hit a league-best .335 with 18 home runs, 56 RBI, 130 wRC+, and a 3.5 fWAR.
Many were curious if he could maintain that production in 2020, but Anderson opted to take it a step further. Through 40 games, he's slashing .365/.401/.582 with eight home runs, 41 runs scored, a 168 wRC+, and a 2.3 fWAR.
Jose Abreu – First Baseman, Chicago White Sox
Like Anderson, Jose Abreu has flown a bit under the radar over the past few seasons. After winning the Rookie of the Year in 2014, he's been relatively steady in the ensuing campaigns and even won the RBI crown in 2019. Coupled with Anderson, Eloy Jimenez, Yoan Moncada, and Luis Robert, the Pale Hose has built a solid core and it's easy to see why they have a ton of buzz around the team.
2020 has been completely off the hook for Abreu though. Through 50 games, he's slashing a ridiculous .332/.374/.644 with 17 home runs, 51 RBI, and a wRC+ of 173. From an offensive standpoint, he may be authoring the most complete season of any hitter in the American League.
DJ LeMahieu – Second Baseman, New York Yankees
Generally speaking, it isn't every day that a player sees offensive improvements by moving away from Coors Field, but DJ LeMahieu certainly found the exception at Yankee Stadium. At the age of 30, he burst into MVP talks last season and finished fourth in the voting after hitting .327/.375/.518 with a career-best 26 home runs, 109 runs scored, 102 RBI, and a wRC+ of 136.
As is the running theme of this year's candidates, that was just the start. LeMahieu hit 2020 like a man playing for his next contract (he is). In 40 games, he slashing .373/.426/.614 with 10 home runs, 37 runs, 20 RBI, and a 187 wRC+. Given the Yankees injury issues throughout 2020, his performance is a huge reason they are in postseason contention.
Shane Bieber – Starting Pitcher, Cleveland Indians
While Dylan Bundy has been a tremendous find for the pitching poor Angels in 2020, there is one reason he won't stand a chance in the AL Cy Young race. Shane Bieber has that wrapped up and deserves some MVP consideration as well.
In a season where good pitching has been hard to find around the league, the right-handed Bieber has been outstanding. Over 72.1 innings of work, he owns an 8-1 record, a 1.74 ERA, a 2.14 FIP, and a 13.94 K/9. His 2.9 fWAR is nearly half a win higher than the next closest player in the league, both hitters and pitchers.
Honorable Mentions: Luke Voit (Yankees), Anthony Rendon (Angels), Brandon Lowe (Rays), Nelson Cruz (Twins).