LA Angels: Looking back on Howie Kendrick's career with the Halos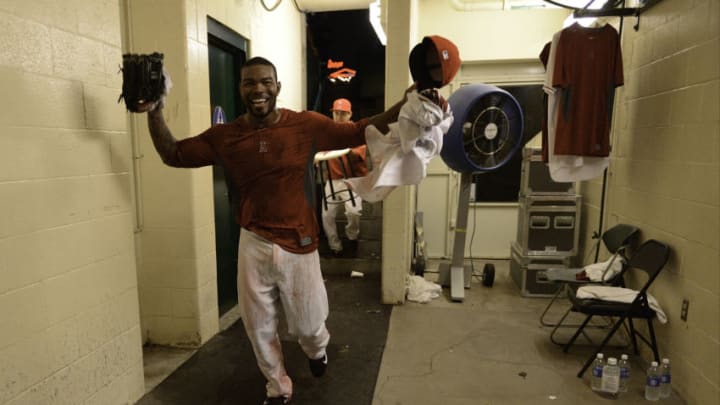 ANAHEIM, CA - JUNE 21: Howie Kendrick #47 of the Los Angeles Angelsis celebrates on his way to the clubhouse after hitting a walk-off double in the 10th inning to defeat the Texas Rangers 3-2 on June 21, 2014 at Angel Stadium of Anaheim in Anaheim, California. (Photo by Matt Brown/Angels Baseball LP/Getty Images) /
OAKLAND, CA – AUGUST 22: Howie Kendrick #47 of the Los Angeles Angels of Anaheim bats against the Oakland Athletics in the top of the first inning at O.co Coliseum on August 22, 2014 in Oakland, California. (Photo by Thearon W. Henderson/Getty Images) /
Halo Howie
During his time as a Halo, he always recorded a solid batting average, but never quite good enough to win that coveted batting title. As an Angel, he only hit above .300 twice, which fell short of the "may never hit under .300" bold prediction, but he consistently finished in the upper .200s, with his best season in 2007 where he hit .322, and his worst season in 2010 where he hit .279. Angels fans and management quickly knew what to expect from Kendrick. His .292/.332/.424 slash line as an Angel was never far off from any separate year. He was the epitome of consistency.
"Consistency" isn't always synonymous with "boring". He was always an exciting player to watch who made hard contact every time he hit the ball. Not only that but he also stole a souvenir from well-known Red Sox fan Ben Affleck, he rubbed it in even further by beating Affleck's Sox 10-4 in the same game.
Despite being a solid contributor year-in-and-year-out, he only made 1 all-star appearance, which came during the 2011 season. During that season, he established himself as an elite defender, recording a 14.4 UZR, while at the same time posting career-bests in several categories. He hit 18 home runs, 63 RBI, and 15 stolen bases while slashing .285/.338/.464. For his efforts, the Angels rewarded him with a 4-year contract extension worth $33.5 million.
Kendrick would not play out the rest of that contract with the Angels. On December 11th, 2014, he was traded to the Los Angeles Dodgers for starting pitcher Andrew Heaney, ending the Howie era in Anaheim.
During his 9 years dawning the halo, he recorded 1204 hits (249 doubles, 30 triples, and 78  home runs), 534 runs, 501 RBI, and 95 stolen bases.