LA Angels: Why this revamped bullpen could be elite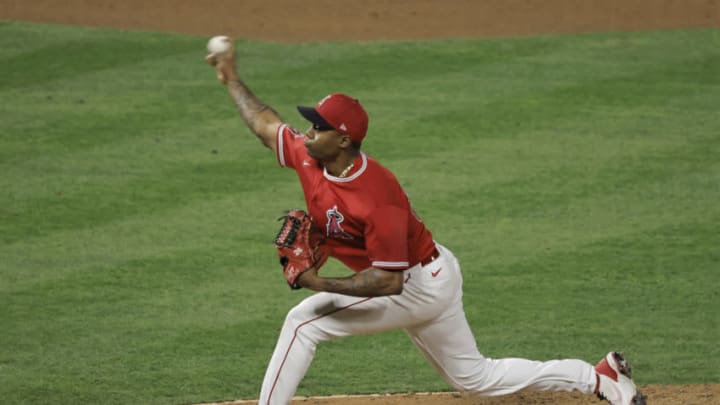 Raisel Iglesias, Los Angeles Angels (Photo by Michael Owens/Getty Images) /
Raisel Iglesias, Los Angeles Angels (Photo by Michael Owens/Getty Images) /
Angels fans can rest a little easier now that the bullpen seems to be taking more shape with the recent moves that Angels general manager Perry Minasian has made. He cleaned house during the offseason as he changed virtually the team's entire bullpen from last season.
As replacements, he made moves for Raisel Iglesias to be their primary closer, left-handed specialist Alex Claudio, Aaron Slegers who was traded from the Tampa Bay Rays, and then adding top-pitching prospect Chris Rodriguez with his electric fastball. The cherries on top of this complete bullpen cake are the late additions of Steve Cishek and Tony Watson as they both got a $1 million each for one year.
According to FanGraphs projections, the Angels bullpen will have a combined 4.35 ERA which is a decent number to be around considering all the moves the team made to add depth. Last season, the Halos 'pen had a ranked 21st in the league in ERA.
With the additions they made, the team is hoping that could be improved which explains why Minasian wasn't too impressed with the bullpen when he took charge of things. Mike Mayers is the only pitcher from the 2020 bullpen that's on the roster for 2021. It's for good reason as Mayers has a 2.10 ERA in 30 innings, while holding hitters to a .162 batting average as he pitched in nearly half of the 60 games of the 2020 season.
More from LA Angels News
Alex Claudio is an interesting addition as he should give some hitters fits with his side arm delivery. Despite having a high ERA of 4.26 last season, Minasian must have seen something in him that he likes as his delivery is certainly unique. Claudio mostly uses a three pitch mix of slider, changeup, and sinker, with an occasional fastball thrown in there. If he can trust his fastball more, then it could give hitters another pitch to worry about  as he clearly throws mostly off-speed pitches. Pairing him up with the hard throwing Chris Rodriguez could give hitters a tough time adjusting to the change in velocity and movement.
Speaking of Rodriguez, he's definitely one for Angels fans to keep a close eye on this season as he makes his big-league debut later this weekend. Having that type of hard-throwing reliever in the bullpen could be a nice piece to use for Angels manager Joe Maddon. Rodriguez can consistently reach mid to upper-90s with a slider and changeup to mix.  His fastball is what really stands out, so if he can further develop his off speed pitches, then it should be tough for hitters to figure him out. There should still be hope that Rodriguez could be a starter in the Angels future, as that is what the team has been preparing him for. As a team wanting to win now, this is his opportunity to be a key factor.
Right-hander Steve Cishek is coming off a struggling 2020 stint in which he had a 5.40 ERA with a 1.50 WHIP in just 20 innings of work with the Chicago White Sox. Minasian and the Angels must believe that the numbers don't reflect what kind of pitcher he could be as they have him as another reclamation project.
For Tony Watson, he's coming off an effective short 2020 campaign in which saw him have a 2.50 ERA with a 0.89 WHIP in 18 innings of work for the San Francisco Giants.
Want your voice heard? Join the Halo Hangout team!
Based on the potential these two pitchers have and what the Angels already have, there should be no reason why this team can't have an effective bullpen in 2021.