LA Angels news: Shohei Ohtani makes history again as a pitcher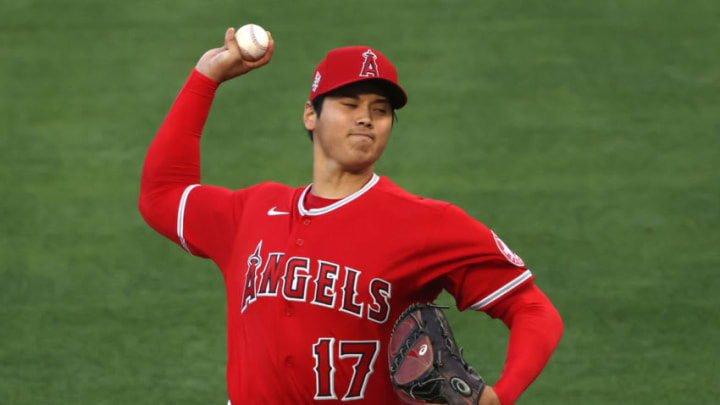 Shohei Ohtani, Los Angeles Angels (Photo by Sean M. Haffey/Getty Images) /
It seems like every time Shohei Ohtani steps in the batter's box or on the mound, there's a good chance for some type of history to be made. The Angels two-way phenom didn't disappointment during his return in Tuesday's 6-2 win over the Rangers.
Angels: Shohei Ohtani making MLB history is a recurring trend.
Ohtani became the first pitcher in MLB history with a start of four innings or fewer to allow zero earned runs while walking six and striking out seven on 80 pitches. He hadn't pitched since April 4 after dealing with a recurring blister on his throwing hand.
This limited Ohtani to a pitch count and he did not hit for himself like he did in his first outing of the season. In that start, Ohtani became the first player in over 45 seasons to accomplish that feat. He also threw the league's fastest pitch (through April 4) and hit the hardest ball (through April 4) in that same inning. The blister is what caused Ohtani to struggle a bit towards the end of his outing.
Angels manager Joe Maddon said Ohtani did not have any issues with his blister and will resume his usual designated hitter duties in Wednesday's finale against Texas.
While it wasn't exactly a dominant outing from Ohtani, there were some good signs which is encouraging. It's important to remember this is a guy who had just two starts since 2018, prior to this season. There's going to be a bit of growing pains coming off Tommy John surgery and an elbow injury, so he needs to continue getting his feet wet in outings like this.
He was around the plate a lot, as only 37 of his 80 pitches were called for strikes. The command wasn't there, but Ohtani did get swings and misses (13 total) when he needed them.
If Ohtani keeps up his current trends offensively and mixes in high-level production on the mound, I think he is an easy favorite as the AL MVP.
In 58 plate appearances, Ohtani owns a .309 batting average and .999 OPS to go along with four home runs and 12 RBI. Through two starts this season, Ohtani has a 1.04 ERA and averages 14.5 strikeouts per nine innings.
Want your voice heard? Join the Halo Hangout team!
I'd find hard to believe any player could be considered more valuable than those numbers, especially if he continues to help the Angels win games.