LA Angels: 1 reason Jared Walsh is a successful defensive first basemen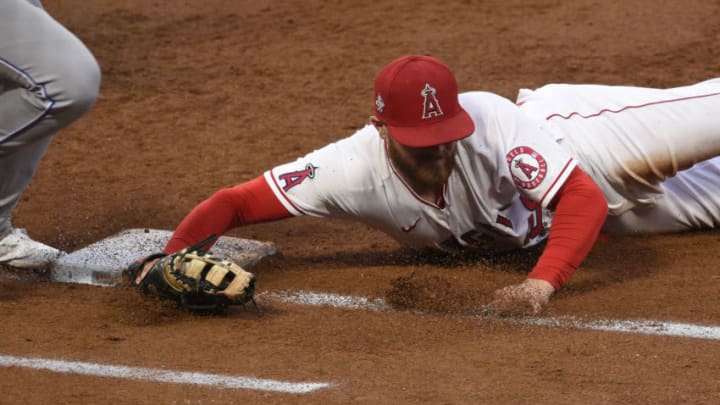 Los Angeles Angels first baseman Jared Walsh (20) dives to first to force out Kansas City Royals shortstop Nicky Lopez (8). Mandatory Credit: Kelvin Kuo-USA TODAY Sports /
Luke Hooper of Fangraphs recently studied the depth that first basemen play off of the base and how it correlates to the amount of plays a team's first baseman can make during a game.
He dove into LA Angels first baseman Jared Walsh in particular, sighting why he's able to cover so much ground on the right side.
Jared Walsh is so effective as a first baseman for the LA Angels due to his quickness.
Hooper used some data from Baseball Savant to find the best 40-foot splits from first basemen, and found that Jared Walsh has the second-best time among the league's first basemen at 2.18. Max Muncy was number one with a 2.17 40-foot split time.
Walsh's league-wide percentile rank is 68, and that quickness gives him a chance to get off of the bag more than all other first basemen in the league, giving him the most range.
There are two reasons why this happens, and that's because he doesn't need as much time to cover the bag, and he has more time to get to the bag himself after making a play in the 3-4 gap.
Hooper found that Walsh positions himself 42.9 feet from the bag. He looked at where Jose Altuve hits the ball most, and found that when the Angels shift against Jose Altuve, Walsh is in a much better position to make a play than where Albert Pujols would position himself for the Altuve shift.
He found that when Altuve batted against the Angels, Albert Pujols only covered enough ground to make one percent of the plays that Altuve hits. Walsh, on the other hand, can cover 11% of the plays that come up when Altuve's hitting.
It's not even just with Altuve. Hooper noted that over three times the amount of ground balls hit by right-handed hitters this year go to the more typical second base position than they do the typical first base position.
The Angels' defense has been awful this year, but Walsh is a bright spot who shows how much quickness can aid a defender, especially a first baseman in a year like this.