Ranking the 5 AL West center fielders entering the 2023 season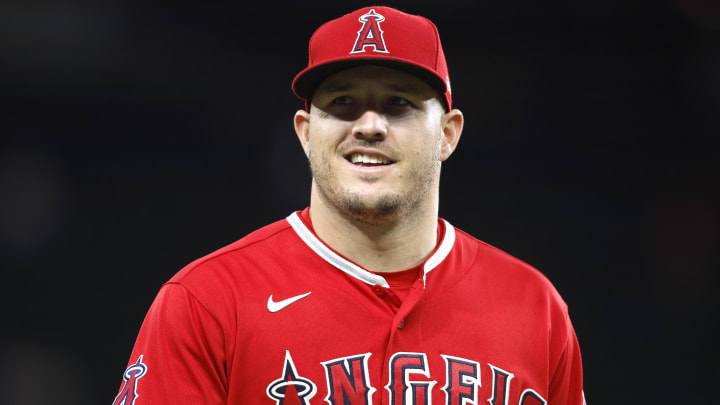 Sep 20, 2022; Arlington, Texas, USA; Los Angeles Angels center fielder Mike Trout (27) walks off / Tim Heitman-USA TODAY Sports
2) Julio Rodriguez - Seattle Mariners
The top-two center fielders in this division are clear and they might even be the top two in all of baseball. MLB Network had Mike Trout at one, Byron Buxton at two, and Julio Rodriguez at three in their top-ten list. An argument could be made that J-Rod should be at two and Buxton at three despite Rodriguez only playing in one season. He was that good.
Julio Rodriguez has the potential to become the best player in the game one day. He's a five-tool player who's so fun to watch. It's a shame he has to be this good for the Mariners of all teams.
Rodriguez slashed .284/.345/.509 with 28 home runs and 75 RBI. He also stole 25 bases in 32 tries. He likely would've entered the 30/30 club as a rookie with 30+ home runs and stolen bases had he not missed time due to injury. He played in just 132 games.
Rodriguez was the best player on a Mariners team that made the postseason. It'll be interesting to see what he does for an encore.
1) Mike Trout - Los Angeles Angels
Mike Trout is still undeniably the best center fielder in baseball and one of the best players in baseball. Injuries have crushed him in recent years, but there is nobody better when he's on the field.
Trout stayed semi-healthy for the first time in a full season since 2019 as he played in 119 games and in those games he was still spectacular. Trout hit 40 home runs despite not even having enough plate appearances to qualify for the batting title. He had a 178 OPS+, won a Silver Slugger, and finished eighth in the MVP balloting despite the missed time.
Trout can still run and defend albeit not at the level he used to. He's still arguably the best hitter in the game and is without a doubt the best center fielder in the AL West.