Happy Anniversary Mike Trout, it's been a great 5 years!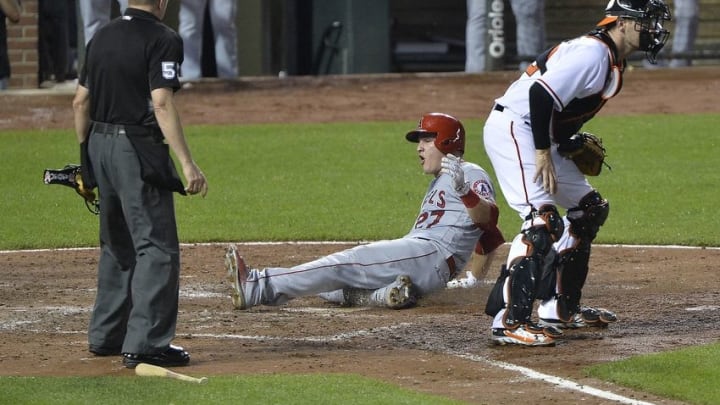 Jul 8, 2016; Baltimore, MD, USA; Los Angeles Angels center fielder Mike Trout (27) scores doing the sixth inning against the Baltimore Orioles at Oriole Park at Camden Yards. Los Angeles Angels defeated Baltimore Orioles 9-5. Mandatory Credit: Tommy Gilligan-USA TODAY Sports /
Five years ago Mike Trout  made his Major League debut on July 8th, 2011 in  Anaheim as the Los Angeles Angels took on the Seattle Mariners.  Trout was replacing an injured Peter Bourjos and went 0 for 3, but it was only a matter of time before Trout would get comfortable.  Trout was only 19 years and 224 days old making him the youngest player to make his Angels debut in 40 years.
The following day Mike Trout got his first big league hit on a bunt single against Michael Pineda then of the Seattle Mariners. A little over two weeks later Trout hit his first career home run in Baltimore on July 24th.  Baltimore is the closest team to Trout's hometown of Millville, New Jersey.  Then on August 30th, 2011 Trout recorded his first two-homer game in Seattle. His first season ended with Trout hitting .220 with five home runs and 16 RBI's.
In 2012 Trout started the season in Triple-A playing 20 games with the Salt Lake City Bees and batting .403 which was good enough for Trout to earn a promotion on April 28th and he has never looked back. Trout finished the season with a .326 batting average hitting 30 homers and driving in 83 runs and stealing 49 bases.  Trout was an unanimous choice for AL Rookie of the Year and finished second behind the Tigers Miguel Cabrera for AL MVP.
More from Halo Hangout
Since then Trout has been either first or second in the AL MVP race winning the award in 2014 while help guide the Angels to their first AL West title since 2009.  Trout has also made the All-Star team as a starter in each of his first five seasons and has won the last two All-Star game MVP awards.  He has also won the Silver Slugger Award each of his first four seasons and last year was a finalist for the Gold Glove Award in centerfield.
Last year he hit over 40 home runs for the first time in his career with 41 bombs. Trout carries a .306 career batting average and .401 OBP with a .560 slugging percentage. He has hot 157 career home runs and driven in 454 runs and stolen 128 bases while only being caught 22 times.
So how is Mike Trout doing in his 5th full season in the majors?  Trout is batting .324 with 18 homers and 57 RBI's.  He has already scored 67 runs, stolen 15 bases in 16 attempts and carries a league-leading .429 on-base percentage into Saturday's 88th game of the season. In last night's 5th anniversary of his major league debut Trout went two for three with three runs scored and a RBI and Trout doesn't show any sign of slowing down any time soon.
Will Mike Trout be in an Angels uniform on his 10th Anniversary of his major league debut? This is the possibly 300 million dollar question.
Mike Trout is signed with the Angels through the 2020 season, but there has been a lot speculation that the Angels may try and trade Trout before his contract is up to cash in on his tremendous value.  IF that does not happen Trout will have a chance to test the free agent market after the 2020 season. He could command well over 300 million dollars as he will only be 28 years old and could get a six year plus deal offered to him.
The Angels hope to have another World Series title by then, but right now that seems like a pipe dream with the team wallowing around in last place.  It will be interesting to see what the team will add in free agency over the next two off-season as some big money contracts come off the books (Jered Weaver and C.J. Wilson in 2016 winter, and Josh Hamilton after 2017 season.).  This will give the team more flexibility to land a big name free agent to help Trout and company become playoff contenders again. That could go a long way in enticing Trout to stay in Anaheim, although 300 to 400 million dollars won't hurt either.
Want your voice heard? Join the Halo Hangout team!
Final Thought: The Angels have the Yankees and Mark Teixeira for getting Mike Trout.
When the Los Angeles Angels acquired Mark Teixeira from the Braves at the trade deadline in 2018 they thought they were getting their first baseman for the next 8 to 10 seasons as they were confident they could get Teixeira to re-sign after the season. However, that didn't happen as Teixeira signed an 8-year 180 million dollar contract with the New York Yankees in the winter of 2008.
All the Angels got out of their efforts was a compensatory pick in the 2009 June Amateur Draft, but what a pick it was.  The Angels had two compensatory picks at 24th and 25th from losing Francisco Rodriguez to the Mets and Teixiera to the Yankees. They used their 24th pick for now Cardinals outfielder Randall Grichuk (traded as part of the deal to land third baseman David Freese). Then came the 25th pick and the Angels broke the Yankees heart (the Bronx Bombers were hoping Trout would fall to the 29th pick where they could draft him) by drafting Trout out of Millville Senior High School. 21 other teams passed on Trout and there were some talented players such as Stephen Strasburg (Nationals), reliever Drew Storen (Nationals), pitcher Mike Leake (Reds), and outfielder A.J. Pollock (Arizona) all were drafted ahead of Trout.
More from LA Angels News
The Yankees ended up taking outfielder Slade Heathcott who has yet to see the major leagues and of course they had Teixeira, but they would have much rather had Trout.  Teixeira signing with the Yankees coupled with Kendrys Morales' broken leg also played a part in the Angels signing Albert Pujols after the 2011 season. While that hasn't worked out as well as the Angels had hoped so far it definitely changed the face of the team starting in 2012.
Will Trout and Pujols lead the Angels to the promise land?
The answer is no, not by themselves.  Despite Pujols not putting up Pujols-like numbers from his St. Louis Cardinal days, he still has been quite productive during his time in Anaheim. Pujols has driven in 100 + runs in two of his first four seasons and hit at least 28 homers in three of his first four seasons in Anaheim.  We already talked about Trout's numbers in his first four seasons, and yet the Angels have only made the playoffs once during the four years the dynamic duo has played in Anaheim.
The reason quite simply has been pitching.  The Angels pitching has been sub-par in each of the last four seasons and continues to be an issue in 2016 as well.  With the injury to Andrew Heaney and possibly Garrett Richards taking them out of action until the 2018 season, the Angels need to find some reliable pitching if they want to make a run for the World Series. Only time will tell.
Next: Should Angels trade Yunel Escobar?
For now enjoy Mike Trout while you still can as you are watching greatness every time he steps on the field. Happy 5th Anniversary Mike, we hope to see you still here when you celebrate your 10th, 15th, and 20th anniversaries.  One can only hope !!!