LA Angels Series Preview: 2020 Starts in Cincinnati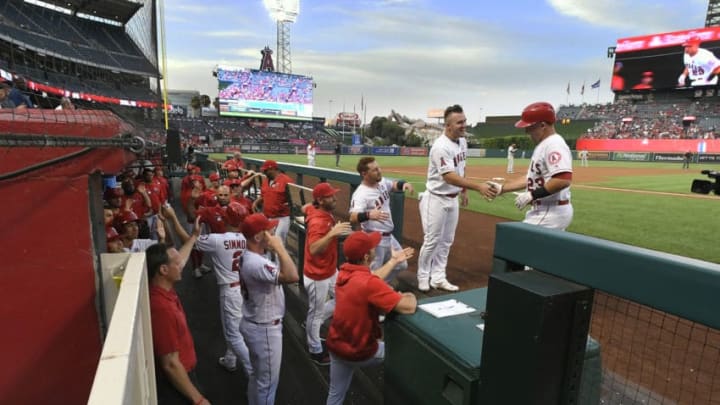 ANAHEIM, CA - JULY 30: Matt Thaiss #23 of the Los Angeles Angels of Anaheim is congratulated by Mike Trout #27 as he walks into the dugout after hitting a two run home run in the second inning agaisnt the Detroit Tigers at Angel Stadium of Anaheim on July 30, 2019 in Anaheim, California. (Photo by John McCoy/Getty Images) /
Triple A Struggles
The biggest issue with the league that the Angels Triple A squad plays in is how brutal of a league it is for pitchers. The PCL is noted for it's extreme hitters environment, extreme enough to the point that many wonder if Double-A is a better environment for evaluating both hitting and pitching talent given it's more balanced environment. The PCL is a league in which the average ERA sits at 5.52, the average K/9 is at 8.9 and the standard BB/9 is 3.9. The average slash line for hitters is .277/.354/.480 with the average age of hitters being 26 years old. In fact, out of 16 total teams only 3 teams hold an average OPS under .800.
In 60.1 IP at Triple-A Sandoval produced a 6.41 ERA with 66 Ks and 35 BBs. While the walks leave a bit to be desired that is also a product of the PCL's extreme hitting environment. I don't mean to sugarcoat his peripherals because there is always some importance in MiLB stats, but for the most part in comparison league averages you can see Sandoval is handling himself at about an average level. Given his age (22) being a handful of years younger than most Triple-A players and 2019 being his first exposure to Triple-A and the extreme hitters environment of the PCL there a lot less to be concerned about than you may feel at first glance.
Now, there are a few things to have real concern about, he is walking a lot of guys (5.2 BB/9) and giving up a lot of hits (12.5 H/9) which may translate poorly to the MLB given his unexpected call-up. It can be said that this is a consequence of being a strike-out pitcher learning his way around getting higher level contact outs, but at the same time it also shows that Sandoval may not be 100% ready. Unfortunately the Angels are hard up for arms in the starting pitching staff which is why Sandoval is getting an early call-up, but if he can translate his better qualities from the MiLB to his first big league start while minimizing what has cause some Triple A struggles there is a very real chance at a successful big league debut.
The Angels may just be calling him up for a cup-of-coffee look to see where his development lies regarding readiness for 2020 contributions, but at the same time he is very capable of putting up a quality debut and if he does so he can stick around for longer than just a cup-of-coffee start. It should be noted that Sandoval's last Triple-A start came against the Albuquerque Isotopes, a top hitting team in the PCL, and saw the lefty starter pitch 5.2 innings (90 pitches) of 3 hit, 6 K baseball (with 4 walks) en route to his 2nd best Triple A start.
His best start in Triple-A came back in May when he twirled 6 innings of 8 K baseball which gave him his first of four Triple-A wins.