LA Angels Series Preview: 2020 Starts in Cincinnati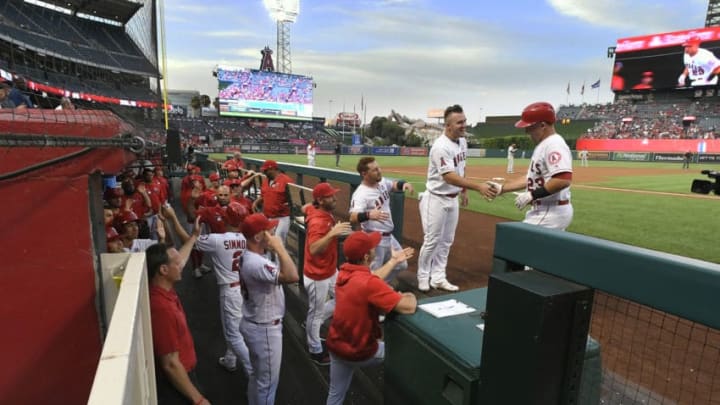 ANAHEIM, CA - JULY 30: Matt Thaiss #23 of the Los Angeles Angels of Anaheim is congratulated by Mike Trout #27 as he walks into the dugout after hitting a two run home run in the second inning agaisnt the Detroit Tigers at Angel Stadium of Anaheim on July 30, 2019 in Anaheim, California. (Photo by John McCoy/Getty Images) /
2020 starts now
It's hard to get over the 2019 Angels season which has proved to be one of the most emotionally difficult seasons for the Angels in a long-time, but with the state of the teams competitiveness we have no choice but to look to the Angel youth that will be contributing to the 2020 squad as our biggest reason to watch the rest of the season unfold. We're getting to see the Angels future 1B/3B/DH man Matt Thaiss is crushing the ball with his .547 SLG% and 5 HRs in 53 MLB AB's . Over the last two weeks Thaiss has hit .321/.387/.786, if he can continue developing his consistent bat he will be a serious force to be reckoned with all throughout the AL as a big time power hitting youth.
Luis Rengifo is showing himself to be a solid utility man with high upside to have in the fold. If he can fully tap into the potential promise in his bat then he will be a legimiate force on this squad, we've seen how well he drives the ball when he is on top of his swing. Max Stassi, the Angels sole trade target this past trade deadline, is a defensively-gifted catcher with great pitch framing skills that is sure to help the starting staff put together better outings. This doesn't mean that Stassi is going to elevate the staff to a whole other level, but his guiding hand with the Angels youthful pitchers (Canning, Sandoval, etc.) is a positive in their development, even if incrementally.
At this point in the season it is becoming less about winning the games than it is what the Angels youth can show in these last couple of months in the season. Some people might tell you the Angels are playing in meaningless games for the rest of the season, but there is nothing meaningless about the Angels future anchors finding their footing in the MLB.
This might be a tough series with Luis Castillo taking the first game of the series given that he is a top 10 pitcher in the NL in multiple categories (Ks, ERA, Opponent BA), but the Angels offense has proven capable of shredding top-level pitching. Even with the Angels offense skidding as hard as they are the ability to compete against top level talent like Castillo is still there, it's just a matter of waking it up.
Jose Suarez is another talent of the future getting his work in now, though he has struggled quite a bit in his time with the Angels. His pitch efficiency is lacking and his ability to throw consistent, aggressive strikes falters in game time the deeper he goes into his starts. He struggles to stay consistent between AB's and has trouble finishing off hitters, often letting hitters in 2 strike counts battle back and find some way on base. I don't think the Cincinnati series will be any different than what he's shown, but the Angels really have no other options as their other pitchers are all getting hurt. If the Angels weren't so desperate for depth he would likely be in Triple-A still working on his stuff, but for now we have to see if he can adjust to big league pitching despite still being in need of some development before being truly ready to face big leaguers on a consistent basis.
The Angels will be playing in a two-game series against the Reds before heading into a tough four-game stretch against the Red Sox.