LA Angels: Looking back on Howie Kendrick's career with the Halos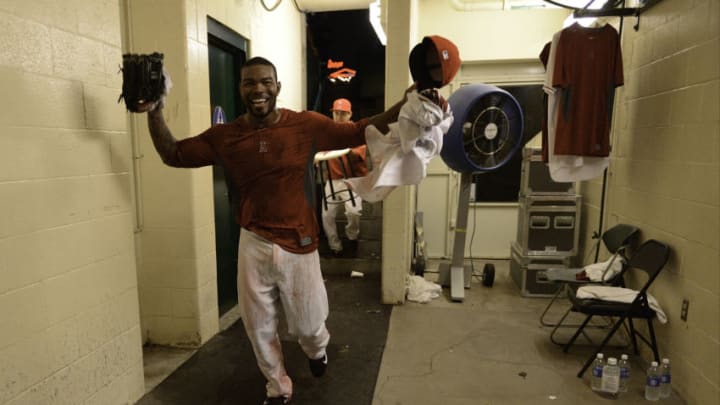 ANAHEIM, CA - JUNE 21: Howie Kendrick #47 of the Los Angeles Angelsis celebrates on his way to the clubhouse after hitting a walk-off double in the 10th inning to defeat the Texas Rangers 3-2 on June 21, 2014 at Angel Stadium of Anaheim in Anaheim, California. (Photo by Matt Brown/Angels Baseball LP/Getty Images) /
On Monday, former Angels' second baseman Howie Kendrick announced his retirement at the age of 37 via his Instagram.
It's not every day you see both "former Angel" and "World Series Champion" on the same resume, but Kendrick is a special case. After being drafted in the 10th round in 2002 by the previously named Anaheim Angels, he quickly cultivated prospect hype. Aside from his first pro season at the age of 18, where he hit .318, he never had a season in the minors where he hit under .360. From his dominance of the minor leagues, he was listed as the 12th overall prospect on Baseball America's 2006 preseason top 50 prospects list, and 5th on Baseball Prospectus' top 50 list.
Heading into the 2006 season, the young second baseman had high expectations. Many people in baseball believed Kendrick could one day win a batting title, with one scout going on record to say he was "a batting title waiting to happen", and another saying he "may never hit under .300". Mike Scioscia, the Angels manager at the time, raved about the burgeoning Kendrick, saying he "has the potential to be an eye-popping offensive player."
He made his Major League debut in 2006 at the young age of 22. It was, however, a brief stint. He had a measly 3 hits in his first 26 at bats (.115 BA) and was sent back down to the minors.
The demotion seemed to set a fire under Kendrick's butt. When he returned 2 months later, he finished out the last 3 months slashing .351/.387/.532. During this stretch, he was able to instill enough confidence in him among Angels management that they let Adam Kennedy enter free agency, the following offseason. Kendrick was now the starting second baseman for the foreseeable future. He would go on to man the position for the next 8 years.