LA Angels: Halos are releasing Albert Pujols after 10 seasons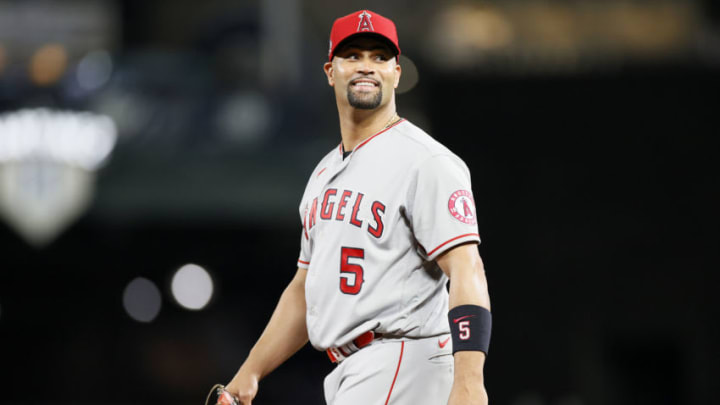 Albert Pujols, Los Angeles Angels (Photo by Steph Chambers/Getty Images) /
After 10 seasons in Anaheim, the Angels have released first baseman Albert Pujols. The decision to part ways with the Future Hall of Famer was made on Thursday, as reported by Mark Feinsand.
The move to DFA Pujols comes in the midst of a season-long four-game losing streak which has seen the Angels record fall to 13-16. The 41-year-old slashed .198/.250/.372 with five home runs and 12 RBI in 92 plate appearances this season. Pujols was productive early on, but he's since struggled, going 2-for-19 with five strikeouts in his last five games.
The Angels have released Albert Pujols in the final year of his historic contract.
The Angels will eat the remaining $30 million salary Pujols was set to earn in 2021 for the final season of his historic 10-year, $240 million deal.
That scenario of the Halos taking on Pujols' owed salary will take place unless the following occurs:
After three MVP awards, nine All-Star appearances, and two World Series victories during his 11 seasons with the Cardinals, Pujols could not provide the same type of high-level play after he signed his mega-deal with the Halos in 2011.
He managed just one All-Star appearance (2015) and posted a line of .256/.311/.447 with 222 home runs in 1,181 games with the Angels. The downward statistical trajectory hit a low last summer when he posted a career-worst .224 batting average.
More from Albert Pujols
It's no secret Pujols was playing into the twilight of his career, but I wouldn't blame it as the sole reason for the Angels' struggles this season. Pitching and defense have been the clear weaknesses of this team. That being said, cutting loose a struggling Pujols gives other opportunities to guys like Jared Walsh getting everyday starts at first base.
Walsh, 27, is having a career-year so far while slashing .333/.412/.576 with six home runs and a team-high 22 RBI. Last season was clearly no fluke for Walsh, and now he looks to be the first baseman of the future. He's been spending time in right field as the team looks for replacement options for Dexter Fowler, but now the move of Walsh to first base allows for guys like Juan Lagares and Taylor Ward to get more outfield opportunities. It could also mean young outfielders like Jo Adell and No.1 prospect Brandon Marsh getting their shot in the near future with an open roster spot.
*UPDATE* It'll be interesting to hear if Pujols had a say in the parting of ways. General Manager Perry Minasian will have a press conference at 4 pm PST on Thursday.
Regardless, if the Halos are not contending along with his poor performances on the field, it's a necessary move to see what other players can bring to the table and if they're worth keeping for the future.
Want your voice heard? Join the Halo Hangout team!
It'll be interesting to see what the future holds for Pujols. Prior to the season, he was undecided on retiring following his final year with the Halos. At this point in his career, he's more of a voice in the locker room than a consistent offensive option.
Whenever he decides to hang up his spikes for good, there's no doubt Pujols will be one of the greatest players this sport has ever seen.